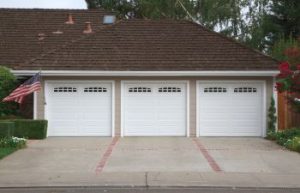 Anglin's Masonry offers repair services to amend problems you may be experiencing with settling that is causing your garage door opening to collapse or cause damage. Most garage doors require the strategic use of columns or lintles. If you'd like to know a little more about lintles, read on.
A Lintle Beam
This is a type of beam used to support the upper wall with openings such as doors, windows and garage doors are necessary to give a structure to a building. It transfers loads coming from upper walls to the sidewalls for added support. It is placed horizontally above the opening and can serve decorative purposes as well as structural stability. They span the space above an opening.
A Masonry Lintle
Brick masonry wall lintles consist of reinforced brick masonry, brick masonry arches, precast concrete or structural steel shapes.
A Lintle Failure
If you have a lintle that is sagging above your garage door, it can cause your brick wall that is supposed to be supported by it to sag. This compromise of support that causes the sagging eventually leads to a noticeable crack above your garage doors.
If you notice a crack in your brick above your garage door opening, call Anglin's Masonry. We can amend your settling problems that could eventually lead to collapse or further damage to your opening. Typical garage door opening repair jobs require 28 days for your mortar to properly cure before we clean and wash your brick and mortar.
Call Anglin's Masonry today for your garage door opening repair needs. Call us to request your free quote.
Posted on behalf of John Anglin, Anglin's Foundation & Masonry Repairs