Floor Leveling Beams | Crawl Spaces | Sagging Floor
When you walk across the floor of your home, it should feel solid and level. With older homes in Atlanta, it isn't unusual to discover that this is not the case, especially when it is built over a crawlspace. Leveling your floor and strengthening the support is often accomplished by installing 6" steel floor leveling beams to add support and bring everything level.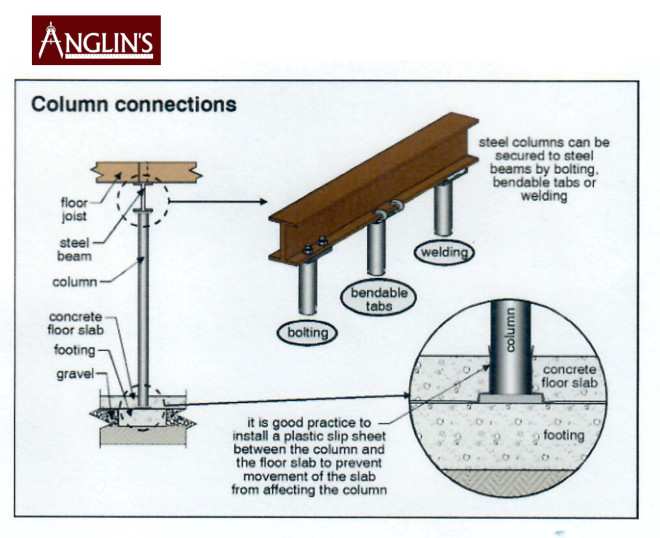 A sagging floor over a crawlspace presents some issues that you might not have with a well-built basement – lack of a solid foundation for the steel floor leveling beams to set on is one. For these types of situations, we use precast concrete engineered supplemental footers. These precast footer blocks are six inches thick and can be 24" round or 18" square supplemental footers and are placed on poured concrete footings.
Hydraulic floor jacks are used to raise the sagging floor to bring it as close to its original level position as possible. If existing joists have cracked or been weakened in some way, they are reinforced. Broken joists are spliced and reinforced to create a structurally sound floor.
If you have a sagging floor built over a crawlspace, don't assume the problem is un-fixable. On the other hand, this type of situation is not a DIY job. At Anglin's, we have plenty of experience with floor leveling beams used to repair a sagging floor over a crawlspace. We'll be happy to stop out and assess your situation and provide a free estimate of what it would cost to bring your sagging floor back to a place of sound construction and a level walking surface.
A sagging or sloped floor can be the sign of a serious structural issue in your home. It certainly will detract from the value of your home. Contact Anglin's Foundation & Masonry Repairs today at (770) 422-2924 to receive your free quote.