Atlanta Helical Piers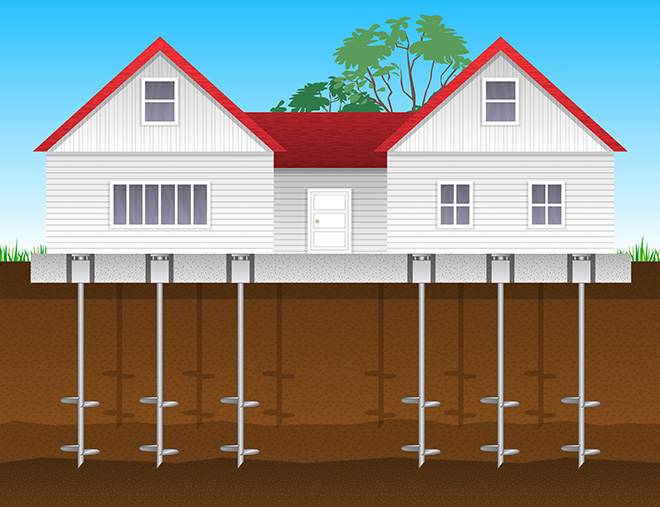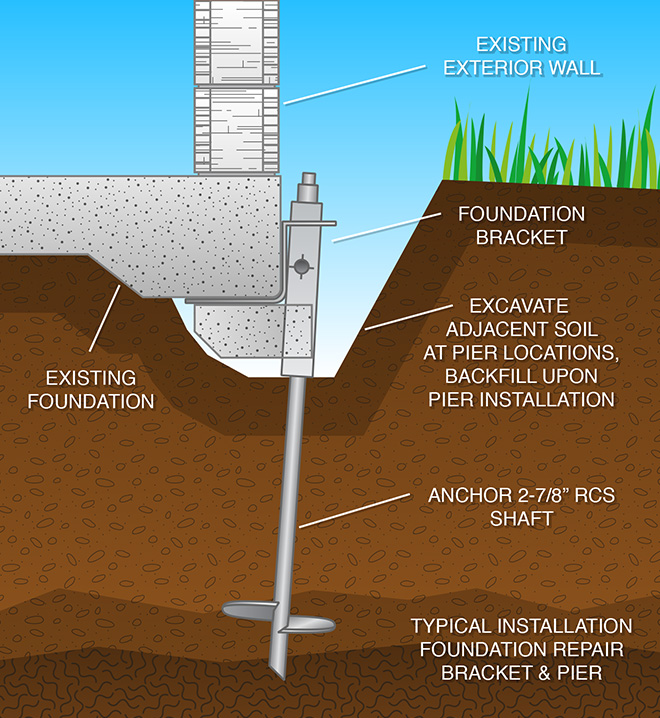 Anglin's Foundation and Masonry Repairs is where homeowners and business owners in Atlanta turn for the best in helical piers. We are a full service foundation and masonry contractor that has been faithfully serving the greater Atlanta metropolitan area since 1930. With over 90 years of experiencing installing pre-construction piers and repairing existing foundations, we have the skill, knowledge and expertise to install or fix your foundation for life, the first time.
A helical pier is a steel shaft that is usually round with helices and is similar to a screw. It can be used to provide foundation support for a variety of different types of structures. In many cases, a helical pier is used when challenging soil conditions prevent the use of a traditional foundation system. A helical pier can also be used to support an existing foundation that has settled or become compromised.
At Anglin's Foundation and Masonry Repairs, we specialize in installing helical piers. Whether you need a helical pier installed prior to construction or to provide support for a failing foundation, we can help. Unlike many other foundation contractors, we do not drill into the concrete foundation for the sake of attaching a pier bracket to the footings. This method can damage or crack the concrete footing. Instead, we have developed a proprietary system of connecting the bracket to the foundation without the need to bolt the bracket it. Our method prevents any damage to the footing or foundation, is proven, and is guaranteed by a company that has been around since 1930.
If your home or commercial business in or around Atlanta is in need of helical piers, you can turn to the expert at Anglin's Foundation and Masonry Repairs. We can install a helical pier foundation system that will ensure that your structure will rest on a solid base and will be stable for many years to come. We offer free quotes and we stand firmly behind our work. Please contact our Helical Piers Contractors or call our Atlanta office today at (770) 422-2924 to schedule your free inspection and quote. We look forward to working with you.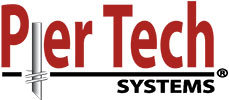 Anglin's Uses the Best Pier Technology Available on the Market Today from PierTech!
Signs of a Sinking House
Every year sinking foundations, cracked and buckled walls, and cracked and uneven floors affect millions of families. Homes situated on unstable soils will settle when the foundations is subject to moisture or poor drainage. A shifting foundation could result in structural damage and potentially, a loss of your investment.
Inside:
Doors and windows that stick
Cracks in floors, on drywalls, and on ceilings
Gaps between walls and ceiling
Gaps between walls and floors
Stress to plumbing, electric and gas lines
Outside:
Cracks in masonry
Gaps between bricks, doors, and windows
Bricks leaning away from garage doors
Sagging roof line
Gaps between chimney and house
Product Advantages
Patented Tru-Lift® Bracket
PierTech® Systems, LLC. is the exclusive provider of the TRU-LIFT® Bracket. This revolutionary bracket virtually eliminates the potential for movement providing unsurpassed foundation stability.
Patented Cross-Bolt Connection
The PierTech® Systems, LLC. Cross-Bolt Connection is the only connection which provides secure support in all planes. This design eliminates deflection in the piles providing superior stability.
Quality Inside and Out
PierTech® Systems, LLC. hot-dip zink galvanizes all material to ensure superior corrosion protection.
Manufactured to the Highest Standards
All PierTech® Systems, LLC. Products undergo an extensive quality assurance testing program. PierTech® products are fabricated from the highest quality steel providing unmatched strength.
On-Time Site Delivery
PierTech® Systems, LLC. Is dedicated to shipping on time, directly to the project site enabling timely completion.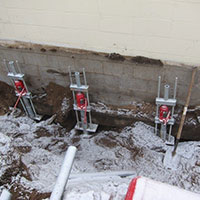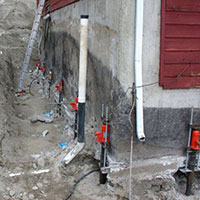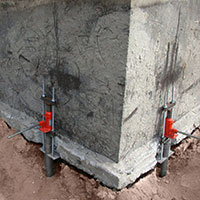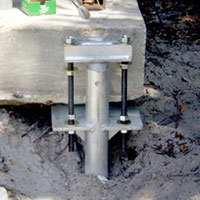 Our Installation Process
The permanent solution to your foundation problems is achieved when you choose the highest quality product, strongest materials, and rely on the experience and expertise of PierTech® Systems. Following an inspection of your foundation, a certified PierTech® Contactor will prepare a repair design based on soil conditions, damage, and the weight of the structure. The design analysis will address the helix size, location, and load requirements. Based on these criteria, the PierTech® certified contractor will give a price quotation.
We begin by excavating down to the footing at each pier location.
The footing must then be notched to accommodate the Tru-Lift® Bracket
A hydraulic torque drive is used to screw each pier into stable sub soil until design depth is achieved.
The Tru-Lift® bracket is then installed on each pile and securely attached to the foundation.
The foundation is raised to the determined elevation and the foundation is permanently stabilized.
Once the foundation is stabilized, all holes are backfilled and every effort is made to return the site to its original condition.