Products & Technical Information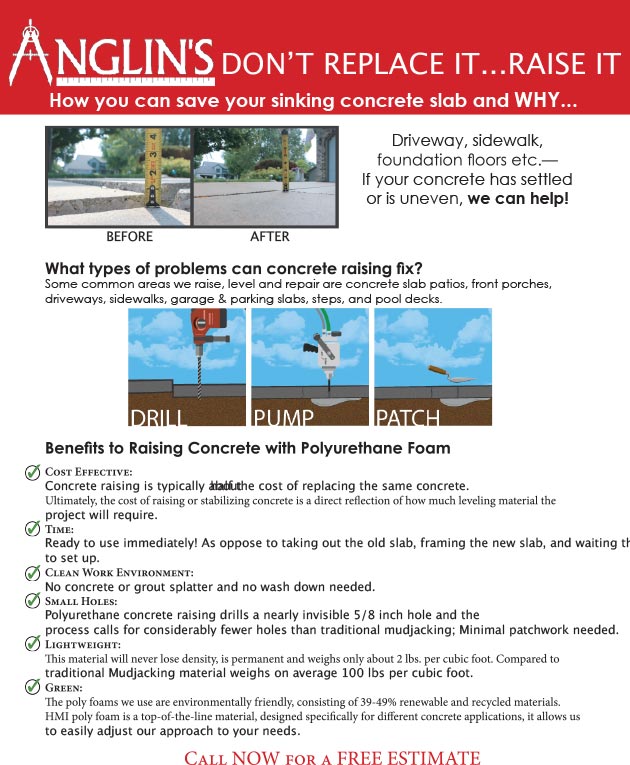 An overview of our systems and processes:
Anglin's Foundation and Masonry Repairs installs steel push-resistance piers and helical pier/anchors that are individually tested to proper PSI (or torque pressure) gauge ratings to stabilize or lift a structure. Our method is to hydraulically press steel piers to bedrock or equal load bearing strata with our resistance piers, or torque helical pier/anchors to the proper depth to reinforce foundations. Piers and Masonry Repair is a plus for us. We truly are a one time stop shop. We repair sinking foundations, steps, porches, leaning chimneys, basement walls, etc. These repairs often have to be vertically and horizontally placed back simultaneously. Simply stabilizing these problems will not correct the visual ending result. Having the experience as being a masonry contractor, we have learned that plumb, straight, and level are the essential necessities for all walls. Once installed properly, the foundation is now stabilized permanently.
With over 90 years of experience we have become the most experienced and reliable foundation repair company in Atlanta. Our biggest asset is we are essentially two companies in one– A foundation repair company and a masonry repair company. Unlike many of our competitors, we will repair any masonry structure on hand. We locate matching brick, mortar and texture, tuck point and repair mortar joints, patch conventional and synthetic stucco, repair concrete and stone work. Once we complete the job, your repairs are finished. The hassle of finding a qualified contractor to do these types of repairs (we are told by our customers) is very exhausting. Let us remove that frustration with a company that can do it all for you. Foundation repair reinstates value to your home, we save you money by being two companies in one, and that will greatly reduce the repair price. Your home may be your most important investment, protect it before foundation problems become too costly to be repaired. Our expertise and financial stability are proof that we are the most stable foundation repair company in Atlanta. Unlike our competitors, we have trained experts who have been with us for over 20 years, and have had the same phone number for over 40 years! We're the oldest complete company of our kind in Georgia and we're ready to help you now and in the future. We have the staff, equipment, systems, and manpower to accomplish any job. Our promises have kept us in business since 1930. We promise what we do and do what we promise.
We offer custom fabricated materials in grade A heavy-duty coated US-ASTM high carbon steel in our foundation support/weldment or bracket. Our piers confirm to schedule 40 ASTM-A53 high carbon steel. Our most common diameter steel pipe of 2 7/8" diameter with a wall thickness of .250" exceeding most of our competitors. Our 7100 square foot shops feature the latest in American technology in processing materials needed to complete a job. We fabricate our materials using the very best technology in iron working machines, mig welders, plasma cutters, band saws, etc., and a crew of certified welders A company with integrity and a name you can trust. Does it really matter who is the largest and strongest manufacturing of piering products on the planet? At Anglin's, we can design, manufacture, fabricate as big, as strong as needed to fit the proper repair needed.
We buy our own products, American made from local distributors such as Georgia Steel/Industrial Metal Suppliers. It does not get any better or stronger. When it gets down to the process of installing piers which is the most paramount importance of all, our products have served us well. Due to the misinformation highway do not be fooled by actors or slick marketing cartoons, graphics, etc. We have never intended on being the biggest company, but simply the best! Big enough to serve yet small enough to care. With Anglin's long years of experience and customers' to prove it, we have the permanent solution to your settlement problems. With Anglin's we take before and after pictures that shows for itself. Our piering products have yet to fail us.
To make the correct decision to hire a professional company for costly foundation repairs, don't not be fooled. Call references and don't simply take a company's word for it. Our employees don't work on commission therefore can be honest. In a nut shell, Anglin's designs, manufactures and installs either push-resistance piers and helical pier/anchors to bedrock or proper load bearing strata followed up with professional masonry repairs. That's our only job! NO SURPRISES or HIDDEN costs…just Bedrock or equal load bearing strata.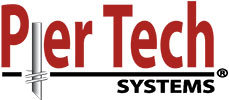 Anglin's Uses the Best Pier Technology Available on the Market Today from PierTech!
Signs of a Sinking House
Every year sinking foundations, cracked and buckled walls, and cracked and uneven floors affect millions of families. Homes situated on unstable soils will settle when the foundations is subject to moisture or poor drainage. A shifting foundation could result in structural damage and potentially, a loss of your investment.
Inside:
Doors and windows that stick
Cracks in floors, on drywalls, and on ceilings
Gaps between walls and ceiling
Gaps between walls and floors
Stress to plumbing, electric and gas lines
Outside:
Cracks in masonry
Gaps between bricks, doors, and windows
Bricks leaning away from garage doors
Sagging roof line
Gaps between chimney and house
Product Advantages
Patented Tru-Lift® Bracket
PierTech® Systems, LLC. is the exclusive provider of the TRU-LIFT® Bracket. This revolutionary bracket virtually eliminates the potential for movement providing unsurpassed foundation stability.
Patented Cross-Bolt Connection
The PierTech® Systems, LLC. Cross-Bolt Connection is the only connection which provides secure support in all planes. This design eliminates deflection in the piles providing superior stability.
Quality Inside and Out
PierTech® Systems, LLC. hot-dip zink galvanizes all material to ensure superior corrosion protection.
Manufactured to the Highest Standards
All PierTech® Systems, LLC. Products undergo an extensive quality assurance testing program. PierTech® products are fabricated from the highest quality steel providing unmatched strength.
On-Time Site Delivery
PierTech® Systems, LLC. Is dedicated to shipping on time, directly to the project site enabling timely completion.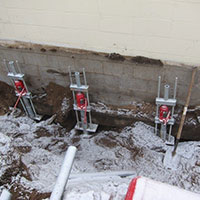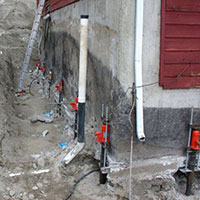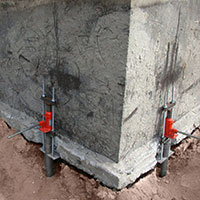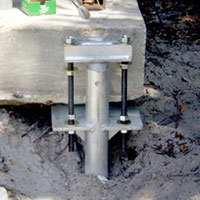 Our Installation Process
The permanent solution to your foundation problems is achieved when you choose the highest quality product, strongest materials, and rely on the experience and expertise of PierTech® Systems. Following an inspection of your foundation, a certified PierTech® Contactor will prepare a repair design based on soil conditions, damage, and the weight of the structure. The design analysis will address the helix size, location, and load requirements. Based on these criteria, the PierTech® certified contractor will give a price quotation.
We begin by excavating down to the footing at each pier location.
The footing must then be notched to accommodate the Tru-Lift® Bracket
A hydraulic torque drive is used to screw each pier into stable sub soil until design depth is achieved.
The Tru-Lift® bracket is then installed on each pile and securely attached to the foundation.
The foundation is raised to the determined elevation and the foundation is permanently stabilized.
Once the foundation is stabilized, all holes are backfilled and every effort is made to return the site to its original condition.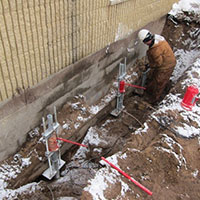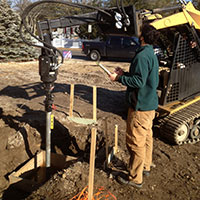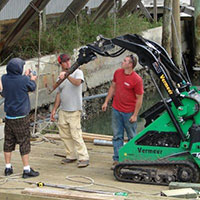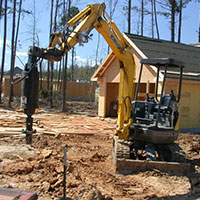 Floor Leveling Systems
Download Technical Documents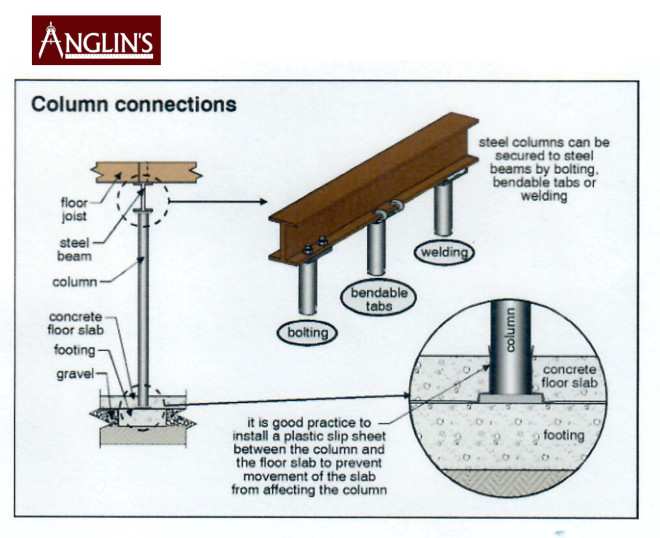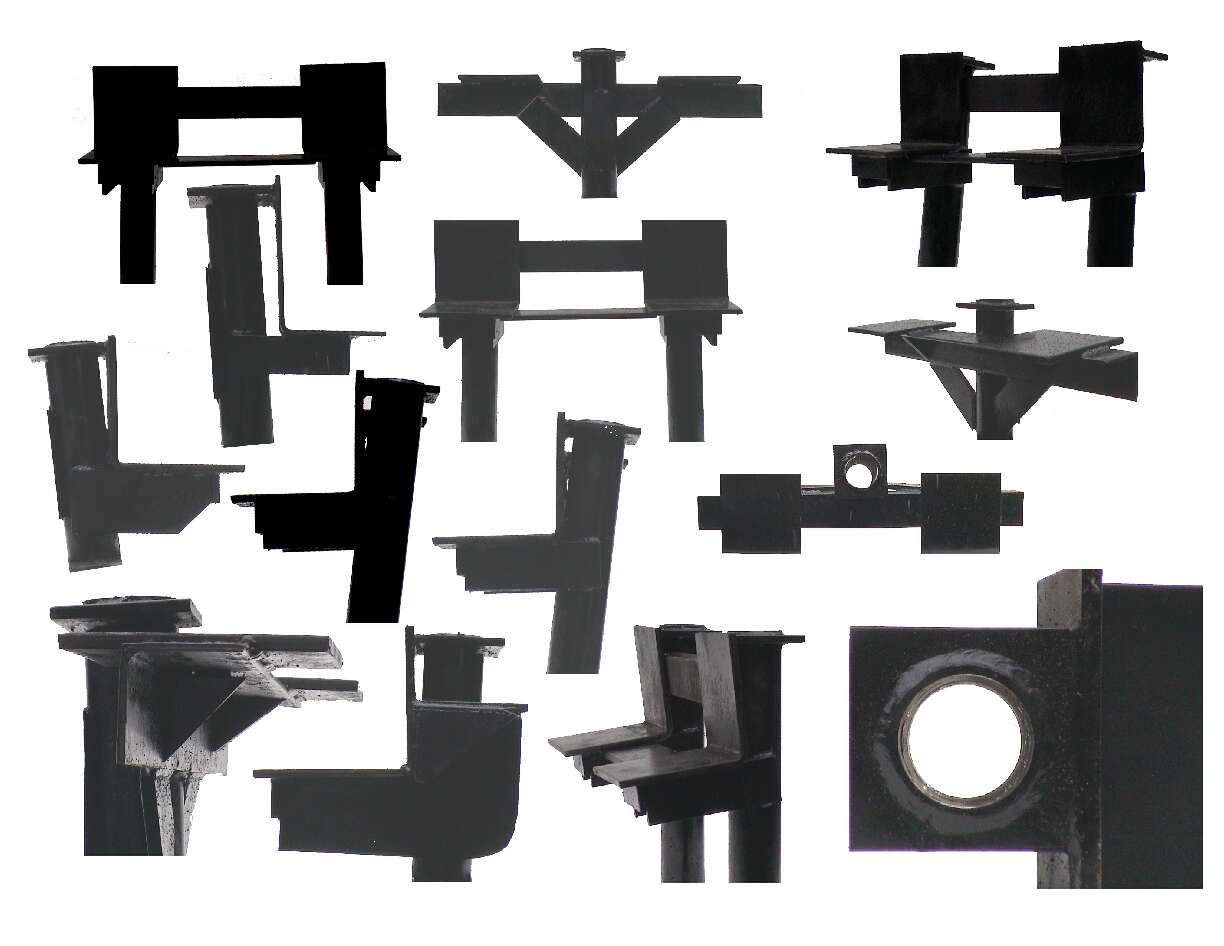 Push/Resistant Piers
Push Piers