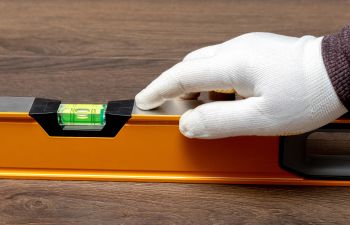 Sometimes we are forced to wait to do certain upgrades to our homes. For example, you need a new paint job but keep putting it off because it isn't in the budget. We understand, and lately, things have been tighter than usual. So, if you have a sagging floorboard or an area that has shifted, does it mean big problems?
What Causes My Floor to Sag?
Floors can sag for a few different reasons, and proper repair needs to be done by someone who knows the right fix for the right spot. That starts with determining why the floor is sagging.
Poor or Outdated Original Design. When the house was built, there may not be adequate support underneath. This can be a problem with the floor joists or even the subfloor. The problem can also arise if you bring in extra heavy furnishings, such as waterbeds or a pool table.
Rotting or Molding Joists Due to Water Damage. If you have a basement or a crawlspace, it needs to be completely waterproof to prevent damage from mold or rot. If the mold is left untreated, it can lead to mold issues inside the home via the walls.
Settling of the House. Sometimes, the floors in your home will sag because the house settles into the environment beneath it.
Do I Need to Fix My Sagging Floor?
There are several reasons you need to fix that sagging floor. First, while you may think it is just cosmetic, there is most likely a needed fix for the actual safety of the floor. If there is insufficient support, the floor can fall through, leading to more damage and possible injuries. If things are molding or rotting, they won't get better without serious intervention. The same goes for water damage. Regarding the house settling, you need a professional to check out the safety of the house and the foundation.
What Do I Do First?
Pick up the phone and call (770) 422-2924, or click here for a free quote from Anglin's Foundation and Masonry Repairs in Atlanta. We'll tell you WHY your floors are sagging, and we will fix it, so you don't need to worry anymore.
Posted on behalf of John Anglin, Anglin's Foundation & Masonry Repairs