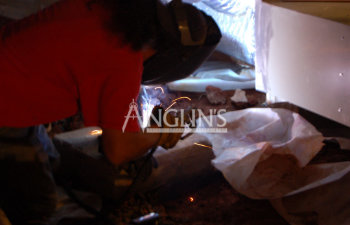 Uneven or sunken concrete surfaces around your home can be not only unsightly but also pose safety hazards. Whether it's your driveway, patio, or a section of your foundation, these problems can be frustrating and pose a risk to your property's safety and value. Fortunately, there's a modern solution that offers numerous benefits: fixing unlevel concrete with polyurethane foam.
Polyurethane foam injection is a cutting-edge technique that has gained popularity for its efficiency and effectiveness in concrete leveling and repair, especially when compared to other methods like mudjacking. Here are some of the key benefits of using polyurethane foam to fix unlevel concrete.
Rapid Results
One of the most significant advantages of using polyurethane foam is how quickly it works. The foam is injected into small holes drilled in the concrete surface. It expands and hardens rapidly, often within minutes. This means you can use the repaired area almost immediately, minimizing downtime and inconvenience.
Minimal Disruption
Traditional concrete repair methods, such as mudjacking, involve heavy equipment and can be quite disruptive. Polyurethane foam injection is a less invasive process. The holes used for injection are small, typically less than an inch in diameter, reducing the impact on your landscape and property.
Lightweight
Polyurethane foam is lightweight but incredibly strong. It provides the necessary support for your concrete slabs without adding significant weight to the already burdened soil. This can be especially important for areas with weak or compressible soils.
Durability
Once injected and cured, polyurethane foam forms a stable and durable base for your concrete. It doesn't degrade over time and is resistant to moisture and chemical damage. This means your repaired concrete will stay level and functional for years to come.
Cost-Effective
While polyurethane foam repair may seem more expensive initially compared to traditional methods, it can save you money in the long run. Its long-lasting results mean you won't have to repeatedly repair the same area, reducing ongoing maintenance costs.
Environmentally Friendly
Polyurethane foam is an environmentally friendly choice. It doesn't release harmful chemicals into the soil, and it reduces waste since it can often be applied over existing concrete instead of replacing it entirely.
Precision
Foam injection allows for precise leveling. The foam can be precisely controlled to lift and level the concrete to the desired height and pitch. This precision ensures that your surfaces are not only level but also properly graded for drainage.
Versatility
Polyurethane foam can be used on a variety of concrete surfaces, including driveways, sidewalks, pool decks, patios, and even interior floors. Its versatility makes it a suitable solution for both residential and commercial applications.
Increased Property Value
Repairing unlevel concrete not only enhances the aesthetic appeal of your property but can also increase its value. Potential buyers or tenants are more likely to be attracted to a property with safe and well-maintained concrete surfaces.
Fixing unlevel concrete with polyurethane foam offers numerous benefits, including speed, minimal disruption, durability, cost-effectiveness, and environmental friendliness. It's a versatile and precise solution that can significantly improve the safety and appearance of your property while providing long-term value. If you have unlevel concrete surfaces around your home or business, contact our team at Anglin's Foundation & Masonry Repair. We offer quality concrete leveling services using polyurethane throughout the greater Atlanta and Marietta, GA, area.
Posted on behalf of John Anglin, Anglin's Foundation & Masonry Repairs