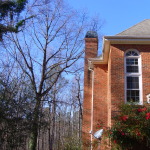 Brick is one of the most favorable materials used for building homes because it is durable, beautiful, and there are many styles available for designing your personal style on the outside of your home. While brick is extremely durable, it is not invincible and it can succumb to environmental elements and foundational problems. Anglin's Foundation and Masonry Repairs is proud to provide excellent brick masonry repairs as well as foundational repairs to homes and businesses in the Atlanta area.
When foundational issues arise with a home or business structure, the façade of the home must be addressed as well. In fact, many foundational issues will cause the façade of the structure to bow, crack, or for bricks to fall out of their places. Settling foundations can cause visible signs of damage to masonry walls as well as threaten the structural integrity of a home or business structure. It is essential that any issues with your home be addressed as soon as possible before irreparable or extremely expensive damage occurs. If there are any signs of cracking, bulging, bowing, or bricks falling away in your home's outdoor walls, it is time to call Anglin's Foundation & Masonry Repairs.
We have the expertise to correctly fix foundational issues, and we have the ability to patch an outside wall and complete any type of brick wall repair or stone wall repair. With over 90 years of experience and a phone number that has not changed in over 35 years, Anglin's Foundation & Masonry Repairs is the name that you can trust. We firmly stand behind our repair work by offering a lifetime warranty. Your home is most likely the largest investment you will ever have, which is why we take your foundational and brick masonry repairs seriously. Unsightly cracks, missing bricks, missing stones, sinking or bulging walls negatively impact your home's appearance, and they will have a negative impact on the value of your property. Contact Anglin's Foundation & Masonry Repairs today and schedule a free inspection. We will come out and thoroughly inspect and assess your home or business's foundation and masonry damage, and we will provide you with a free quote.
Posted on behalf of John Anglin, Anglin's Foundation & Masonry Repairs