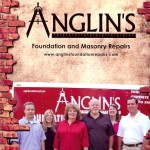 All buildings and homes will have wear and tear over time, showing their age and showing slight movement. It can be difficult to discern what is natural from what is damaging. Seasonal shrinkage and expansion due to hot and cold temperatures are considered natural, but when movement is a result of the ground settling below the home, serious foundation issues are a concern. If you have cracks in your ceiling and you are trying to determine if they are caused by age or are a sign of structural damage, it is time to call Anglin's Foundation & Masonry Repairs.
The size of cracks in the ceiling are a huge indicator of how dangerous they are to a building's structure. Spider web cracks are considered "normal" as a home settles over years. These cracks can run throughout the home on the ceiling, walls, floors, and grout joints. However, if these cracks are more than 1/16 inch wide, they are a sign of structural issues that must be dealt with.
Any crack that runs across the length of a ceiling and then continues down a wall along the same line is of great concern. A crack of this manner indicates structural damage that is typically related to a weak wall stud or something structural that has been jarred loose in the settling of a structure over time. This type of crack is always a pressing issue and should be addressed as soon as possible.
Any type of crack that is accompanied by a bow or "dip" in the ceiling is a sign of a very serious problem. The joists of a home are meant to hold up the weight of the entire structure and keep it level. However, if this support weakens, the ceiling will begin to sag as the weight puts pressure on the home or building. If you find any type of crack that is associated with sagging in the ceiling, it is imperative that you take immediate action in order to save your home or building.
Anglin's Foundation & Masonry Repairs has the experience and expertise you need to correct structural damage to your home. We are a family owned and operated business that has been here in Atlanta for over 90 years providing exceptional foundation repair. Call us today with any of your structural concerns.
Posted on behalf of John Anglin, Anglin's Foundation & Masonry Repairs