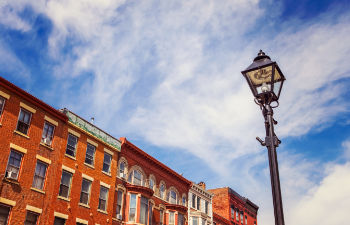 There are many benefits to moving your business into an existing older (and even historic) building in Georgia. Customers who enter your building can get the feeling of longevity, stability and nostalgia. Typically, old historic buildings or homes are located in central areas close to town and potential or existing customers. Let's not forget the landscaping and historical features of an old home that cannot be found in newly constructed buildings. Trees that are over a century are priceless features on older properties.
The benefits of an older business building are many. However, there are some things you will need to consider.
Is your building safe for customers? You do not want to be held liable for any structural issues that could cause harm or injury to your customers or clients. Uneven concrete can cause a trip and fall and then a potential lawsuit.
Are your customers getting or sensing the feeling of security when they enter your building or are they hearing or feeling creeks, squeaks or sinking flooring? Buckling, uneven or sinking floors can make customers feel uneasy and may not give them the feeling of security that they need.
Before you open the doors of your new business in your exciting older building, call Anglin's to correct any foundational issues such as cracks in the walls, slab foundation, bricks, or chimneys. Call us today so we can help you address structural foundation problems in a timely manner to give your business every thing necessary for success.
Contact us today for a lifetime of structural and masonry repair experience.
Posted on behalf of John Anglin, Anglin's Foundation & Masonry Repairs