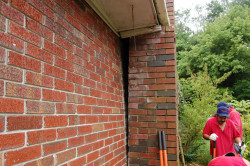 Chimneys are a beautiful focal point of a home or building. They add character, a sense of timeless beauty, and are often a huge selling point for buyers. However, while these structures can be beautiful in appearance, they can also be extremely dangerous. Any time there is a crack in a chimney, it signifies that there is some sort of issue with how it is aligned or attached to the home, or that there is a foundational issue. Any of these can cause threats to the chimney falling and injuring or killing anyone within the vicinity. That information is not mean to scare you, but to make you aware that a cracked chimney should never be ignored!
All parts of a home require a solid footing on which to rest. Front porches, back decks, retaining walls, and chimneys are all attached to homes and, therefore, also require a proper foundation. When a home's foundation is not properly set before construction very serious, and expensive, issues will most likely occur. When a chimney begins to react to an improper foundation, cracks in the chimney are very common. However, while it may be a common occurrence due to an improper foundation, failing to hire a professional chimney foundation expert can cause dire consequences. The entire chimney can separate from the home and fall, killing people or pets and damaging anything else in its path.
Anglin's Foundation & Masonry Repairs in Atlanta, Georgia has been the trusted source in Georgia for over 90 years as the number one name in chimney repair. When a chimney is cracked, tilting, leaning, or falling it should never be ignored. There are always special needs and considerations that must be made with every individual chimney, and we have the experience, expertise, and know-how to correct the issues behind your chimney problem. Anglin's Foundation & Masonry Repairs offers free chimney inspections and free quotes on the cost of the repair, so please call us today. Do not let another day pass without having your chimney assessed!
Posted on behalf of John Anglin, Anglin's Foundation & Masonry Repairs