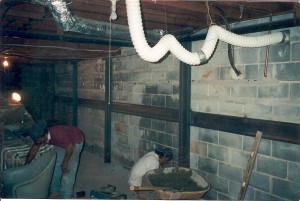 If you have been out house hunting in hopes of purchasing a new home, you may have already gotten used to scrutinizing details, and that is a good thing. Buying a home is most likely going to be the largest purchase you make in your lifetime, so it is important to take your time, learn to be picky, and not settle. Whether you are purchasing a brand new build or an older home, there are certain "red flags" to look for such as water damage and structural issues. But one of the most commonly misunderstood issues has to do with the basement.
Homes with basements are a high commodity here in Georgia – they provide extra storage space, extra room in the house, and a cooler place to hang out during the oppressive summer heat. However, it is very important to have a thorough inspection done on the entire house, which includes the basement, before purchase. Cracks in the basement are a signal that there is underlying stress on the home's foundation. Cracks are a reaction to something happening on the other side of the wall or beneath the concrete floor, and they should not be ignored.
The four most common cracks in the basement are:
Horizontal Wall Cracks are most often found about three feet down from ground level and are known as "free line" cracks. This is an indication of where the surface soil stops freezing during cold winter. The freezing and thawing of the soil causes contraction and expansion, putting pressure on the basement wall. This type of crack is very dangerous.
Stair Step Cracks are most typically found at or near the corners of the home's foundation. These stair steps indicate that there is a footer movement in that area because the footer has been undermined. The entire home sits upon the footers; therefore, if a footer is cracked or undermined, it offers very little stability to the entire home. This type of crack can be very costly to repair if not taken care of early.
Vertical Cracks indicate that there is a high amount of stress in the foundation to cause the foundation walls to sheer or split vertically. This is an extremely dangerous situation because it is almost always an indication that the footer is either about to crack or has already cracked. This problem needs to be taken care of very quickly before much more serious damage occurs.
Floor Cracks are indication that there is water pressure from below the home's foundation. While these cracks are not a serious indicator of foundational problems, they can provide an entrance for water to come in and flood the home. Fixing the cracks themselves will not relieve the pressure from beneath the home. The water pressure from beneath the home must be removed for the cracks to stop expanding.
At Anglin's Foundation & Masonry Repair, we are experts at solving issues with a home's foundation. We do a full inspection of the property to determine the root cause of the problem, and with over 90 years of experience, we offer expert diagnoses. If you have any type of crack in your basement that you are concerned about, please call us. We proudly offer home foundation inspections and repairs that are guaranteed.
Posted on behalf of John Anglin, Anglin's Foundation & Masonry Repairs