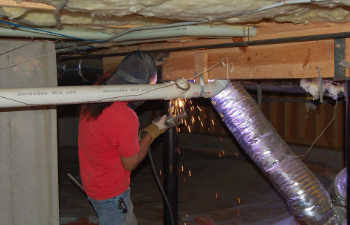 The average Atlanta-area homeowner is unfamiliar with how foundation problems can affect their home. Cracks and sagging support structures are common. Brick walls or veneers can separate and pull away from your home structure, threatening collapse and other extensive damage. Brick chimneys can lean and pull away from the home.
Catching these issues early and making the proper repairs is essential to preserve the structural integrity of your home. Anglin's Foundation & Masonry Repairs in Alpharetta serves home and business owners throughout North Georgia with superior repairs that last. Our founder, John Anglin, is well-known for his promise: "I fix it for life the first time."
An essential part of our reliable repairs is the ability to custom fabricate our own support anchors and other components. While we do not offer commercial welding services, we employ our own welders and fabricators who create the necessary components for every job in our own in-house fabrication shop. We also have welders who can work on any job site when we perform foundation repairs.
Custom Anchors with Engineered Extensions
Foundation repair and bracing brick walls often require the use of steel anchors and piers. These are not items stocked in local hardware or big box retail home repair stores. They must be custom made for the specific application by a seasoned fabricator. At Anglin's Foundation & Masonry Repairs, we use only the finest high carbon steel piers and high tensile strength support anchors for foundation repairs or securing damaged brick veneers.
These components are designed and created in-house at our own fabrication shop to match exacting specifications. Our own talented welders and fabricators are part of our reputable team that boasts over 100 years of combined experience in this industry; their work is essential to us keeping our promise to fix your foundation or masonry problems for life the first time.
Professional Installation for Lasting Support
Custom engineered and crafted components are only part of making repairs that last for a lifetime. Proper installation is critical for any foundation or masonry repair that lasts. We remove failed brackets and supports from our client's homes almost daily, because they were installed improperly. The process of installation is as important as the quality of materials being used.
Anglin's Foundation & Masonry Repairs uses the finest materials and our on-site engineers work with meticulous precision to ensure proper placement of all support materials. Your foundation or masonry repairs are made to last for a lifetime – we guarantee it.
Have you noticed cracks, sagging or leaning brick walls or chimneys or other signs of structural problems around your home? Contact us today for reliable repairs from a trustworthy team of professionals.
Posted on behalf of John Anglin, Anglin's Foundation & Masonry Repairs