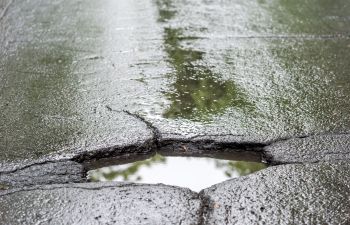 Concrete slab is a relatively inexpensive way to create beautiful and functional surfaces around your home. However, there is a risk to safety when concrete is damaged or compromised. Trips and falls can result in significant injuries and fatalities in extreme cases.
How can concrete lead to accidents? Cracks, sinking or elevated concrete may cause family and friends to trip on the uneven surfaces. Considering that concrete is a solid material, these accidents could result in broken bones, a TBI or loss of life.
Damage to concrete surfaces is therefore more than an aesthetic issue. You may not like the appearance of your outdoor spaces, but those flaws could lead to scenarios that have greater consequences to human health.
Concrete Raising & Leveling
Sunken and uneven concrete are two of the biggest issues with outdoor surfaces. This is typically caused by shifting, erosion or voids in the soil in the substrate. Other issues include pest infestation and root system intrusion.
Lifting and leveling concrete describes the visible part of the process. One technique, known as polyurethane foam injection, involves filling the voids underneath concrete. The surface is elevated and leveled, leaving you with a perfectly functional and durable concrete structure.
Cost-Effective Concrete Repair
There are unscrupulous contractors who would happily recommend replacing your concrete. A project of this magnitude will cost you in time and money. In most cases, going to such extremes is entirely unnecessary.
You can repair concrete without removing a single piece of material. Polyurethane foam is injected into small holes around the existing structure, filling voids and elevating the surface material until it is even. This technique works for driveways, patios, pathways, the poolside and more.
Exterior Living Spaces Inspection
An inspection of your exterior living spaces will reveal the condition of ground-level concrete structures. Anglin's Foundation & Masonry can provide a free estimate on work, or come to your property to perform a full evaluation.
We recommend calling our Anglin's Foundation & Masonry offices in Atlanta today. Our team will provide all the support and services you need to get your concrete surfaces professionally repaired.
Posted on behalf of John Anglin, Anglin's Foundation & Masonry Repairs