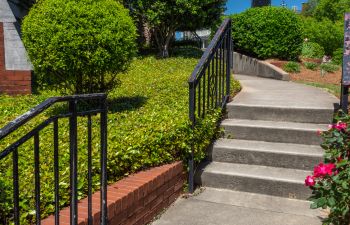 The stoop and steps that lead up to your home or other areas of the property may suffer damage. Sinking, tilting and cracking are the most common issues with these structures. There are several ways that you could incur unnecessary costs if repairs are not completed.
The structures that lead to the entrance of your home are used by family, friends and other visitors. Accidents can happen when a structure is unsound. There is also the visual aspect of a damaged stoop and steps to consider. If you want to sell your home, curb appeal is a major consideration.
Safety Hazards
Several types of safety hazards are associated with a compromised stoop and steps, depending on the type of feature. The structure could collapse if not properly supported. There is also a risk of tripping and falling due to large cracks or dips.
Repairing the damage to stoops and steps could prevent you from being sued. Repairs are more cost-effective and make your home safer. You can't put a price on knowing that coming to your property is unlikely to result in visitors suffering serious injuries.
Curb Appeal
A damaged stoop and steps make a property look neglected. Neighbors may complain that your home is bringing down the reputation or property values of the neighborhood. Any disrepair will also reduce the curb appeal of your property.
Potential buyers inspect every structure to find fault. The smallest cracks may lead to attempts to renegotiate on price. As one of the first structures that interested parties encounter, you want to know that your stoop and steps make a great first impression.
A Sign of Bigger Problems
Structures in and around your home will not fail without reason. If your stoop and steps begin to sink or develop cracks, Anglin's Foundation & Masonry Repairs can conduct an inspection. Once we have identified the root cause, we will recommend repair options.
During our inspection, the specialist may identify other structural issues affecting your home. However, all repair recommendations are subject to your approval. Call Anglin's Foundation & Masonry Repairs today for excellent inspection and repair services.
Posted on behalf of John Anglin, Anglin's Foundation & Masonry Repairs