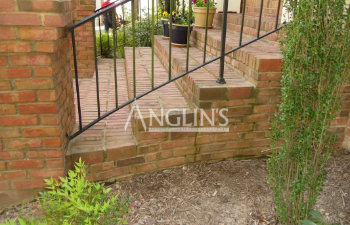 Sagging or sinking steps pose significant dangers and safety risks in residential and commercial settings. While it may seem like a minor issue, the consequences of neglected or poorly maintained steps can result in accidents, injuries and property damage. If you have signs of steps that are sinking or sagging, here are some reasons to schedule a repair as soon as possible.
Trip and Fall Hazards
One of the most immediate dangers of sagging or sinking steps is the increased risk of trips and falls. When steps are not level, individuals may easily lose their balance and stumble. Such accidents can lead to minor injuries like bruises and sprains or more severe injuries like fractures and head trauma.
Accessibility Issues
Sagging or sinking steps can create accessibility problems for people with disabilities or mobility issues. Uneven steps can be challenging to navigate for those using wheelchairs, walkers, or crutches, making it challenging for them to access buildings safely.
Structural Damage
The presence of sagging or sinking steps is often a symptom of underlying structural issues. Over time, these issues can worsen and lead to more extensive damage to the entire staircase and surrounding structures. Neglecting these problems can result in costly repairs and even compromise the stability of the building.
Increased Liability
Property owners can face legal liabilities if someone is injured due to unsafe steps on their premises. Negligence in maintaining safe conditions can lead to lawsuits and financial consequences for property owners.
Aesthetic Decline
Besides the safety concerns, sagging or sinking steps can also have a negative impact on the aesthetic appeal of a property. Uneven or deteriorating steps can make a property appear neglected and decrease its overall value.
Water Drainage Issues
Sagging or sinking steps can disrupt the proper drainage of rainwater. This can lead to water pooling on the steps, making them slippery and hazardous. Over time, water damage can exacerbate structural problems.
Increased Maintenance Costs
Delaying repairs on sagging or sinking steps can result in higher maintenance costs in the long run. Minor issues can escalate into significant structural problems, necessitating more extensive and expensive repairs or replacements.
Resale Value Reduction
For homeowners looking to sell their property, sagging or sinking steps can significantly reduce its resale value. Prospective buyers often consider the condition of the exterior, including the steps, as an important factor in their decision-making process.
Regular inspections and proactive maintenance are crucial to mitigate the dangers associated with sagging or sinking steps. Property owners should promptly address any signs of deterioration or structural issues to ensure the safety of occupants and visitors. If you live in Northern Georgia, Anglin's Foundation & Masonry Repair is your source for sagging and sinking step repair. Our technicians can inspect your steps to identify the root causes of the problem and determine the most appropriate course of action to restore safe steps while protecting the integrity of your home or business. Call us today to schedule your step repair consultation.
Posted on behalf of John Anglin, Anglin's Foundation & Masonry Repairs