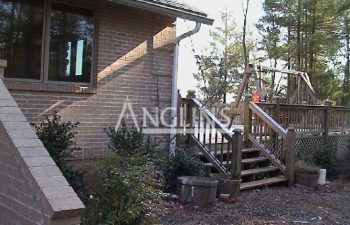 A properly built deck will have some sort of foundation under the support posts. If you installed sturdy supports but your deck seems unlevel, your foundations or footings may be sinking. You may need a deck post repair before the footings fail and take the deck down with them.
Once footings or foundations begin to sink into the ground, the support posts on top can start to lean. This slanted surface is not only unsightly – it can be dangerous if the beams become unstable and can no longer support the weight of the deck.
Symptoms of a Sinking Deck Foundation
Deck footings and foundations can sink for different reasons. Water damage and erosion can destabilize the area around or under the footings. Certain soils, such as clay, move when they expand and contract as moisture levels change. This movement can create conditions that allow your footings to slip deeper into the ground.
Some symptoms of a sinking deck include:
Movement in the deck when you walk on it

Obvious gaps between the deck and the house

Cracked or split decking

Warped boards and railings

A lean or slant in any direction
Any of these conditions may indicate you need deck post repair. It's important to contact a qualified post repair and foundation expert right away. Delaying could not only end up costing you more money, but it could also result in a total structural failure.
How to Repair Sinking Deck Posts
Deck post repair addressing sinking footings is not a do-it-yourself job. It is a difficult process requiring a thorough understanding of soils, footings, foundations and load-bearing calculations. The term 'raising the deck' seems simple, but it isn't. You could irreversibly damage the footings, further destabilize the ground or compromise the integrity of the deck itself. If the job is done incorrectly, major accidents can occur, and you could be seriously injured.

Deck post repair is a job for the professionals. Our experience in stabilizing supports and repairing deck posts will provide you with a safe, long-lasting and level deck. Contact Anglin's Foundation & Masonry Repairs in Atlanta for your free inspection today.
Posted on behalf of John Anglin, Anglin's Foundation & Masonry Repairs