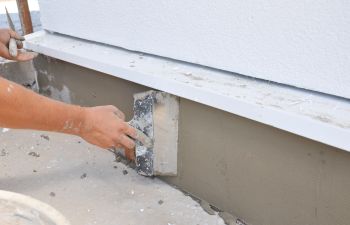 The foundation of your commercial premises is literally the building block upon which your business stands. In some industries, such as warehousing, a concrete slab can take a beating. From dealing with vehicle traffic to heavy loads, structural damage over time is almost inevitable.
There are two major concerns with a compromised foundation in commercial premises. First of all, a foundation is part of the load bearing structure system. Other components of the building can suffer damage if the foundation is not structurally sound.
Second, there is a health and safety concern if a foundation is compromised. You may be liable for accidents on your property that cause injury or death. From trips and falls to structural collapse, there are many hazards associated with a foundation in need of repair.
Foundational Integrity
Once a foundation is compromised, it is only a matter of time before the damage spreads. You will usually first see the impact in supported walls. Cracks may begin to appear and can indicate the severity of the overall issues. Anglin's Foundation & Masonry can assess your premises and recommend appropriate action.
Problems with a foundation, or the substrate beneath, may cause sinking or subsidence. This symptom of a compromised foundation is visible from outside the building. Walls on one side of your premises may appear to lean on one side. Walls can also develop cracks under additional strain, while windows and doors will jam.
Foundation Inspections
Commercial property owners should periodically have foundations inspected. If your business activities are likely to damage supporting structures, identifying problems early can save you money. Minor repairs are more cost-effective than repairing a severely compromised foundation.
If you have concerns about the structural integrity of the foundation in your commercial property, Anglin's Foundation & Masonry can help. We are committed to helping our business customers avoid accidents and heavy costs associated with structural damage.
Consult with Anglin's Foundation & Masonry today if you have observed cracks in walls or ceilings. Our specialist will conduct a full inspection and suggest effective solutions. Do not let a damaged foundation sink your business – call our Atlanta offices today!
Posted on behalf of John Anglin, Anglin's Foundation & Masonry Repairs