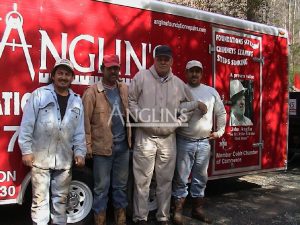 Do you live in an older home with a crawlspace? If you're wondering what a crawlspace is, it is similar to a basement but it is vented to the outside air. They vary in size and height. Some are two feet tall or shorter, which implies the "crawling" around on your belly to access it. Crawl spaces are a cost effective option for building your home, and they also give you access beneath your house.
Up until the 1970s, crawlspaces were the norm for building a home. Since then, concrete slabs or full basements have become more popular. However, there are many factors that go into deciding which type of foundation is best for your home. Slab foundations and crawlspace foundations each offer a variety of benefits. You will want to consider slop of your lot, durability, energy savings, resale value and other issues when deciding which is right for you.
If your home already has a crawlspace under it and it's sagging or sinking you may be wondering how and if it can ever be repaired. Anglin's has years of experience with leveling floor beams to repair your sagging floor over your crawlspace. We will come out and assess your situation, and often the solution is accomplished by installing 6" steel floor leveling beams to add support and restore the your floor's leveling.
If you have a sagging or sloped floor in your home with a crawlspace, contact us at Anglin's Foundation and Masonry Repairs. We will give you a free quote and restore a level walking surface for your home's floors.
Posted on behalf of John Anglin, Anglin's Foundation & Masonry Repairs