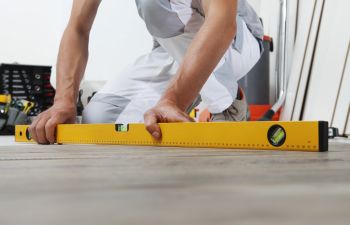 Floors that slope or sag in a home with a crawl space indicates a structural problem. It is important to the safety and structural integrity of your home that this issue is addressed in a timely manner. Check your home for the following:
Crawl space columns are tilting or showing signs of sinking.
There may be moist or rotting wood under the house.
There may be cracks in the home's drywall.
Doors and windows may have trouble opening or closing smoothly.
There are three primary reasons that homes with crawl spaces experience a structural sag.
Too Far Apart
When a home is built with a crawl space, columns of cinder block, brick, rocks and sometimes wood are located throughout the area under the structure. Designed to support the weight of the building above, these posts can run into trouble if the weight on them is too much or they are positioned too far apart.
When the columns are too far apart, the beams and girders will sag as they become overcome with too much weight for their load tolerance. This produces a sag in the flooring.
Rot And Mold
Crawl spaces collect moisture and humidity. This creates ideal conditions for rot and mold to thrive in the wood used to construct the home. Many crawl spaces are not sealed properly to prevent this. The rot-weakened joists, girders and posts then fail and the structure's integrity is compromised. In time, the flooring will become soft with a bounce to it and eventually collapse.
Columns Settle
All houses settle over time but if the footings under the posts are not sufficient enough to prevent extreme settling, the structure's integrity will be compromised. The soil the home's posts depend on may not have been strong or solid enough to support the weight placed upon it. This causes the columns to sink. Gaps will appear between the top of the post and the bottom of the girder until the girder, unable to hold all that weight, sags.
Fix Your Home
A slope or sag in your floor indicates your home's safety and value have been compromised. Anglin's Foundation and Masonry Repairs fixes your home for life, the first time. Call now for your free quote.
Posted on behalf of John Anglin, Anglin's Foundation & Masonry Repairs