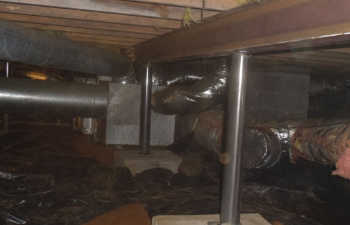 Suburban homes are commonly built on basements. This added square footage provides excess space for family members to spread out, makes room for extra storage, and allows easy entry from the backyard. While the basement is not considered the "heart of the home," it is often the best indicator of your home's health. The next time you are in your basement organizing your seasonal décor or planning your spring cleaning, make a point of looking around for signs of basement wall failure. Deterioration and shifting basement walls can lead to your home's foundational failure, which is why your basement needs a regular health check.
Basement walls may be pre-cast concrete, masonry blocks, or even part of a post-tension slab system. Common problems with basement walls, especially load-bearing walls, include walls that bow inward or outward, and cracks in basement walls. When basement walls show these signs, your home could be very close to having a major structural problem. Problems with basement foundations can cause pressure on your wood framing and cracks in your interior drywall or exterior brick, block, or stone walls. Failure to properly fix these problems can threaten your home's structural integrity and negatively affect the value of your home.
Your home is likely the largest investment you will make in your lifetime. Issues with basement walls indicate future problems for your home. When the structural integrity of your house is compromised, not only is the value of your home compromised, but the safety of your home can no longer be guaranteed. Your loved ones and your investment can all be lost if you choose to ignore poor health signs in your basement.
Anglin's Foundation & Masonry Repairs has been serving Atlanta residents since 1930. Our company has built its reputation on fixing home foundations right, for life. If you have noticed signs of concern in your basement, please contact our Atlanta Basement Wall Repair Contractors today at (770) 422-2924. We offer free inspections and free quotes, and all our work is backed by our price protection warranty and John Anglin's Personal Guarantee.
Posted on behalf of John Anglin, Anglin's Foundation & Masonry Repairs