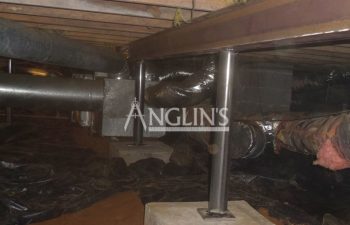 Whether you are purchasing a home or living in a home for a long time, there are certain issues that you never want to ignore. When purchasing a home, a home inspection will help to identify problem areas that will raise red flags and may help you determine to walk away from buying a home. Yet, if you are already living in a home and issues arise, it is important to take the proper steps to correct the problems promptly. One main issue that is prominent in older homes and homes built over a crawlspace is sagging floors.
When you walk across the floors within your home, they should feel solid and level. With older homes in Atlanta, it is not unusual to discover that floors are uneven and have a tilt to them. A tilt in your floors not only indicates that the foundation of your home could be compromised, but it also poses a risk of injury to those who enter your home. Feeling unbalanced can cause people, especially older adults, to lose their footing quite easily. Your home should be a safe haven for your family and those who visit your home, so you should never ignore a tilt in your floor.
While there are many DIY projects out there, leveling a sagging floor is not one of them. Going beneath a home into a crawlspace is dangerous enough, but going beneath a home that is unstable or sitting on a compromised foundation can be extremely dangerous. At Anglin's Foundation & Masonry Repairs, we have the expertise in raising sagging or tilting floors back to a place of sound construction and a level walking surface.
Whether your home is new, you are looking to purchase a "fixer upper," or you have lived in your home for many years, Anglin's is here to help. We have plenty of experience with floor leveling beams used to repair a sagging floor over a crawlspace. We will be happy to come to your home and assess your situation and provide a free estimate of what it would cost to correct your issues.
Contact Anglin's Foundation & Masonry Repairs today.
Posted on behalf of John Anglin, Anglin's Foundation & Masonry Repairs