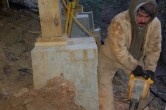 Summer is winding down, which means that cooler temperatures are in the not too distant future. It will be time to get out on your back deck or covered porch and enjoy the pleasant evenings with your family and friends. Or will it?
A deck or covered porch that is unlevel is a significant concern to homeowners because drastic consequences can occur. A deck that is unlevel becomes unstable, and the security and safety of the deck is severely compromised. Decks posts that were not properly anchored or were installed on soil that was not properly compacted will sink over time.
At first, you may just notice that your table or chairs seem a bit wobbly, or you may notice that there is shifting in the deck when you walk across it. Please take note that these signs are extremely telling that your deck's safety has been compromised, and we at Anglin's Foundation & Masonry Repairs highly suggest that you do not allow anyone out on your deck. Decks with an unstable foundation have been known to fall at unexpected times, often killing or severely injuring those on the structure or beneath it.
Anglin's Foundation & Masonry Repairs has the experience, knowledge, and expertise to repair your deck so that it is level and safe again. We have helped hundreds of residents in the Atlanta area with deck post repair services by repairing problems with footings and foundations. We offer a lifetime of structural and masonry experience to every job that we take on. With over 90 years of experience under our belt, Anglin's Foundation & Masonry Repair is the name that you can trust and depend on to do the job right, the first time.
Please call us immediately if you notice any changes in your deck's structure or levelness. All of our work is backed by our price protection and personal guarantee. Financing is available through Regions Bank.
Posted on behalf of John Anglin, Anglin's Foundation & Masonry Repairs