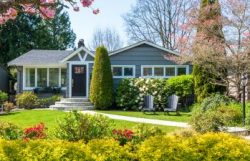 If your home is on the market and you have a potential buyer, the first thing that any buyer will want is an inspection of your home. Whether you agree to pay for the inspection or the buyers offer to pay, failing an inspection leaves you in a bind.
A home inspection is a binding agreement that your home is in good, selling condition. Not all homes that fail inspection require significant repairs, while some do. A failed inspection simply says that there are certain areas of your home that are not up to standard. So, what do you do?
Call Anglin's Foundation & Masonry Repairs.
Anglin's Foundation & Masonry Repairs has been helping people all over the Greater Atlanta area since 1930. Our company is a family owned and operated business that promises to serve you. We are here to repair any structural problem to your home that compromises the integrity or stability of your home. Even with the costs rising on home improvements, home construction, and repairs, Anglin's Foundation & Masonry Repairs has proven value. We offer a commitment to excellence that drives everything we do.
Many times, a failed home inspection requires little in terms of time, effort, or money. Replacing a broken door knob or ceiling fan is easy and inexpensive. However, if a home inspection fails due to serious issues like cracks in the foundation, doors and windows that jam, or uneven floors, it is vital that you call an experienced company that knows what it is doing.
Anglin's uses state of the art equipment and systems to determine the exact issue, the extent of the problem, and the best way to correct it. We have an extensive list of references and partners who will give a testimonial to our price protection and guaranteed service.
A failed inspection can be heart-wrenching to sellers who have a willing buyer at the table. You can trust Anglin's Foundation & Masonry Repairs to provide the best services at the best price. Call Anglin's today to partner with a company that takes pride in what we do and who strives to completely satisfy our customers. A failed inspection does not mean the end of the world when you call Anglin's.
Posted on behalf of John Anglin, Anglin's Foundation & Masonry Repairs