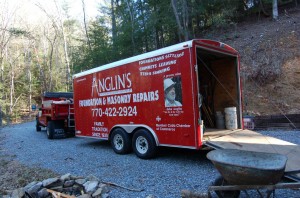 Many homes are built with a crawl space as a foundation instead of slabs or basements. A floor that is sagging over crawlspace is a sign that structural problems may exist. What may be happening underneath a home's floors? Soil expands and contracts and puts pressure on a foundation. Typically, outer walls, columns, and beams support crawl spaces. Any of these can be compromised when the soil settles over time. Termites, ductwork installation, and plumbing through joists are common causes of structural issues in crawl spaces. There is also the issue of moisture causing wooden support beams to rot. When the wood is compromised, the floors will become unlevel and sag, gaps can be found between walls and floors, and interior walls may show cracks. In addition to dank smells and humidity, moisture in a crawl space can also lead to the growth of mold, which is another serious problem for a homeowner.
Many people are rightly concerned about the safety of sagging floors. The more they sag and become uneven, floors will crack, squeak and make it more likely for people in the home to trip and fall.
Though there can be many causes that make a floor sag or slope, there is good news. Steel leveling beams are used to restore the integrity of a foundation. We use supplemental footers on concrete footings to strengthen the home's underpinnings. Heavy duty hydraulic floor jacks are used to raise the floor to its original level position. Existing joists are reinforced.
If you have a sagging floor, Anglin Foundation and Masonry Repair wants to help. Floors that sag are often a sign of a serious structural issue. Using our decades of experience, our team of foundation experts will work quickly to examine the footings, joists, columns, flooring, and soil to determine the extent of damage and repair needed. We are here to solve any problems associated with sagging floors over a crawl space. Contact us today for a quote!
Posted on behalf of John Anglin, Anglin's Foundation & Masonry Repairs