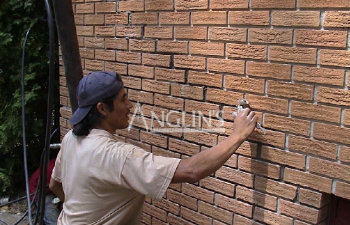 The summer heat, along with weather conditions during the winter, can put your foundation at risk for damage. Spring rains can cause soil movement that can shift your foundation out of place. To avoid expensive repairs, you can examine your foundation to detect a few early signs that can point to serious issues in the future. You should have your foundation professionally inspected at least once a year to protect your home and household. Here are three common foundation repair issues to look for this summer.
Visible Cracks
Visible cracks can be a sign of shifting in your foundation. When you are performing an inspection this summer, examine both the interior and exterior of your home. These cracks may appear along doors, windows and your floor. Any cracks larger than hairline size may need foundation repair from an experienced professional. Custom solutions like push resistant or helical piers can be installed to protect your home from foundation cracking in the future.
Plumbing Leaks
Plumbing leaks can cause expensive damage to your foundation. You may need foundation repair if you notice puddles of water around your foundation or a significant rise in your water bill. A hydrostatic test can help detect problems with pressure or the structural integrity of your pipes that are leading to any plumbing leaks.
Sticking Doors
Any changes to the natural movement of your doors can signal foundation repair issues. You may notice your door sticking when you try to open it or have difficulty with locking. Your doors may open or close independently. These are signs of foundation shifting. You may want to reach out to an experienced professional for an inspection and any necessary foundation repairs.
Experienced Foundation Repair in Atlanta
Foundation repair issues can be common for many homeowners in Atlanta. Clay soil can lead to shifting and settling with your foundation. The experienced professionals at Anglin's Foundation & Masonry Repairs can help you detect and repair any issues to protect your home from significant damage. With over 93 years of experience, you can rely on trained professionals to deliver superior customer service at affordable prices. Call today to receive a free quote.
Posted on behalf of John Anglin, Anglin's Foundation & Masonry Repairs