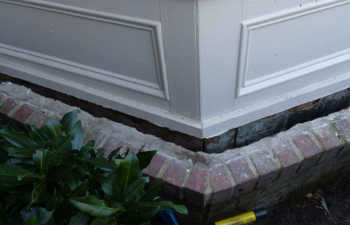 When you go to bed at night, you want to sleep within the safety of your own home. You never want to have to worry about a foundational issue affecting the integrity of your home, but many people are perhaps living under a false sense of security. Here in Georgia, the infamous red clay can pose many problems to a home's foundation in terms of sinking, settling, and becoming unlevel. It is essential to pay attention to changes in your home's structure so that you can address them sooner rather than later.
Many people notice small cracks in their basement's foundation but tend to ignore them as nothing more than "small" cracks. However, this thinking gets many people in a heap of trouble. When a home's foundation is compromised, multiple issues need to be addressed. You cannot merely pick up your home and fix problems with the soil or replace the foundation. Anglin's Foundation & Masonry Repairs has the experience and expertise to provide foundation repair. With knowledge of Georgia red clay and proficiency in foundational underpinning, Anglin's is the name to trust in and around Atlanta.
Foundational underpinning is a method in which artificial supports are generated to brace the compromised portions of the original foundation. Anglin's prefers to use helical anchors for foundational underpinning whenever possible. While there are different methods available, helical anchors offer structural integrity and strength that is required for foundational underpinning. This method is not only proven, but it is often more cost-effective than other types of foundational repairs.
Anglin's Foundation & Masonry Repairs has been in business since 1930. With almost 90 years of experience, we know the proven methods for repairing any foundational issue. Our company has been built upon our reputable service. If you have any type of home foundation issue, contact us today. We can repair your home's structure so that it will remain safe and stable for years to come.
Posted on behalf of John Anglin, Anglin's Foundation & Masonry Repairs