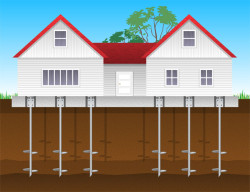 All structures need a stable foundation, and whenever foundational failure is present it is always a serious situation. The infamous Georgia red clay found in this state often leaves homes in and around Atlanta very susceptible to problems with settling, sinking, and becoming unlevel. What may start out as a small crack in your basement's foundation can easily lead to severe cases of foundation failure and water damage throughout the home. Tackling huge problems like these requires the experience and expertise of a reputable foundation repair contractor. Anglin's Foundation & Masonry Repairs is the name to trust in and around Atlanta, Georgia.
When a home's foundation is compromised, there is no simple solution. One cannot simply lift a home from the ground and replace its foundation, so what is there to do? Underpinning is a process in which artificial supports are created to prop up the compromised portions of the underlying foundation. There are different methods for accomplishing foundational underpinning, but at Anglin's Foundation & Masonry Repairs we prefer to use helical anchors when possible. Helical anchors, sometimes referred to as "screw anchors" offer the structural integrity and strength required for repair at a fraction of the cost.
At Anglin's Foundation & Masonry Repairs, we specialize in installing helical piers. We have developed a proprietary system of connecting the bracket to the foundation without the need to bolt the bracket to it. This system prevents any damage to the footing or foundation. Our company has been successfully using this system since 1930, and with over 90 years of success, this method is proven and guaranteed. The helical piers go deep into the ground until they connect with the strata layer of the earth. Because the screw anchors are made of reinforced steel, they can support almost any amount of support that is put on them. Helical piers also create a minimal footprint so that the aesthetics of a home's property is not ruined throughout the foundation repair process.
If your home in or around Atlanta is experiencing foundational failure, please contact Anglin's Foundation & Masonry Repairs immediately. We can install a helical pier foundation system that will ensure that your structure will rest on a solid base and will be stable for many years to come. We are happy to offer a free inspection and quote. We look forward to working with you.
Posted on behalf of John Anglin, Anglin's Foundation & Masonry Repairs