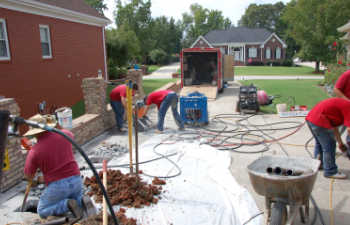 Now that 2021 is here, many people are looking for areas of improvement that they can invest time and money in. Of course, you don't want to waste either time or money, so choosing an area of improvement should not be taken lightly. While many people are introspective when it comes to "resolutions," perhaps now, more than ever before, improvements need to be made closer to home.
Whether full lockdowns will go into effect under a new administration or not, millions of Americans are home more than ever before. Here in the Greater Atlanta area, people still have the liberty to go out, but with COVID-19 numbers on the rise, home is the place many people choose to be.
If there were ever a time to invest in home improvements, that time is now. If there are areas in your home that need to be corrected, don't put them off any longer. Many homes around Atlanta are built upon concrete slabs. Concrete is known for its strength and durability, and it is commonly used to construct floors, sidewalks, and driveways. However, concrete is only as good as the soil beneath it.
Over time, the soil beneath concrete can begin to contract and expand significantly. With Georgia's infamous red clay, water expansion can be a pesky problem for builders and contractors. Without knowledge and experience building on clay soil, many home builders construct homes on problematic soil. If the ground becomes uneven below concrete, floors and walkways can turn into dangerous situations. Uneven walkways can cause tripping hazards and other accidents, while uneven concrete slabs will weaken the foundation of your home and cause extensive damage to your property.
At Anglin's Foundation & Masonry Repair, we are here to help you get level in 2021. For over 90 years, we have served the Greater Atlanta area with exceptional service. We offer Polyurethane Concrete Lifting services to restore your concrete to its original condition. We use polyurethane foam injection to provide effective and fast-acting results that will last.
Posted on behalf of John Anglin, Anglin's Foundation & Masonry Repairs