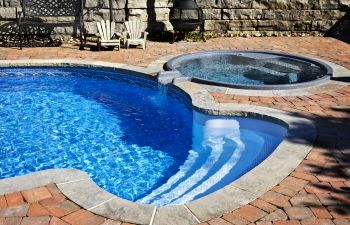 Is your concrete pool decking showing signs of disrepair? There are five primary reasons for pool deck damage:
No rebar for re-enforcement
Expansion joints were not correctly placed
Expansion & contraction caused by freezing
De-icing salts
Weak or watery concrete
When there is no rebar to hold the concrete together, it will crack and sag. Too few expansion joints will not allow your concrete deck to move with the weather. Therefore, when drastic temperature changes occur, the concrete will crack rather than move at the joints. When salt is used for deicing, it also weakens the concrete. Salt can release an alkaline chemical, which worsens the freeze-thaw damage to your pool deck. Likewise, if the contractor used too much water in the concrete, it would crack more easily.
Lift & Level with Foam
The technicians at Anglin's Foundation & Masonry Repair will drill small holes into your pool deck to lift and level it. These dime-sized holes are then covered, and everything is repaired and sanded to create a new concrete surface that can be finished with several different methods or covered with natural stone, tile or patterned concrete if desired.
Pool Deck Resurfacing
Which resurfacing method we use depends on your desires for a final result. We could do a micro top or overlay to conceal the repairs if you choose and add texture, patterns, color or a combination.
Many patterns and covers are created specifically to reflect heat and improve slip resistance. Tiles and natural stone covers are typically more expensive than concrete polishing or patterns, but they can create an exquisite aesthetic look. Plus, tile and stone are long-lasting materials that could last for the lifespan of your pool deck.
Recolor the Pool Deck
If you choose to recolor the pool deck rather than adding the more expensive stone or tile cover, we can make it look exquisite with UV-resistant stain or polished concrete. Thus, a pool deck with a new water or acid-based stain will retain its beauty for years.
To get a free consultation and estimate, call Anglin's Foundation & Masonry Repair.
Posted on behalf of John Anglin, Anglin's Foundation & Masonry Repairs