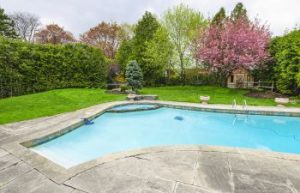 If you live in Georgia, it's not out of the question that you'll be able to begin using your pool in the month of May. According to Weather Spark, the average temperature at the beginning of May is 76 degrees. By the end of May, the average temperature is up to 83 degrees. This weather means it's time to start getting your pool ready for Georgia's summer swimming season.
Cracking Pool Decks
If you have small cracks in your pool deck that have developed, it's essential to pay close attention to them. They could be signaling a much larger issue. Not only are cracks an unsightly issue around your pool, but they can be hazardous if they are large enough. Cracking can be due to weather, seasonal temperature changes, soil issues or leaks. Cracking in your pool deck needs to be inspected and maintained.
Unsettled Or Uneven Pool Decks
If your pool deck is out of level, it most likely will lead to large cracks. One way to see if your pool deck is not level is to look at the level of your water in relation to the horizontal grout line around the edge of your pool. When your tile is installed it is usually level; therefore it makes an excellent gauge for checking the leveling of your pool deck.
Anglin's Concrete Lifting
If you venture out to your pool and notice cracking or concrete that is not level, it's time to enlist the help of Anglin's. We will come out and inspect your pool deck, and if we notice cracking or uneven concrete, we can help with our concrete raising technique with Polyurethane Foam.
Call Anglin's for a free estimate today!
Posted on behalf of John Anglin, Anglin's Foundation & Masonry Repairs