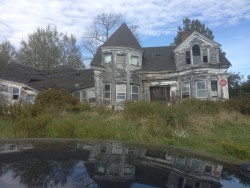 A bit too late for that.
We thought we could fix anything but a broken heart (which we are working on) but we were wrong! Some things even we cannot repair.
My wife and I were traveling in our RV on the East Coast of Maine near Bar Harbor, when we sighted this interesting old house. We turned our RV around and stopped. I got out my Nikon digital camera and shot some photos and videos. 'What a waste,' I thought.
Old houses are almost as precious as "old dogs and children and watermelon wine." They should not be neglected.
Thankfully, all is not lost. This old house still holds meaning, merit and value. Makers of unique, custom hand-crafted antique furniture love to take old houses like this – along with old barns, buildings and structures of any kind – and salvage the usable wood.
They salvage aged barn wood, siding, rafters, floor joists, wood beams, posts and other pieces of lumber. Then they clean and preserve the wood before handcrafting it into beautiful pieces of furniture.
One of these companies is Green Gables Furniture. My wife and I have purchased several of their custom hand-crafted furniture pieces. We love it!
Green Gables Furniture can take 'disasters about to happen' like the building pictured above and transform deterioration into fresh, new creations.
Anglin's may not be able to compete with Mother Nature, but when given early warnings of structural problems or failures, we have solutions designed to work for almost any structure.
Don't let your home deteriorate, we're specialists at restoring buildings to safety and soundness.
Posted on behalf of John Anglin, Anglin's Foundation & Masonry Repairs