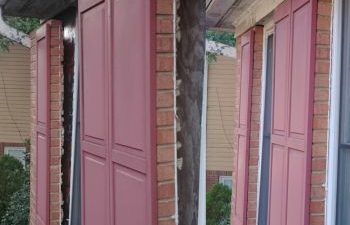 A brick home had suffered significant foundation settlement, causing the veneer to crack and shift out of alignment. Initially, the homeowners thought they would need to tear down the entire veneer to address the issue, a decision compounded by the stress of knowing their brick was no longer made. However, Anglin's Foundation & Masonry Repairs evaluated the situation and assured the homeowner the brick could be saved. We recommended the use of push pier brackets in conjunction with a lateral hydraulic push system to restore the foundation and prevent a complete teardown and replacement.
How Can Push Pier Brackets and a Lateral Hydraulic Push System Help With Foundation Settlement?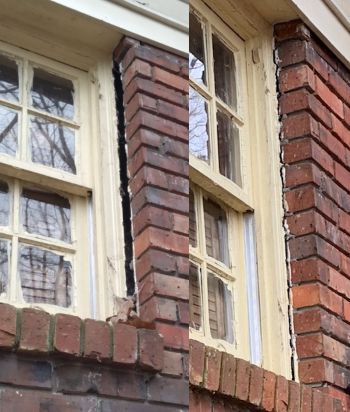 Push pier brackets and hydraulic push systems work together to lift the foundation back to its original position and stabilize it.
The brackets are made from steel and are mounted on the foundation wall to provide a stable base for push pier installation. A push pier is a steel pier that is hydraulically driven into the ground to provide support for a settling foundation. Anglin's Foundation & Masonry Repairs creates custom push pier brackets for superior results.
The lateral hydraulic push system uses hydraulic jacks to lift the foundation of a brick home. The jacks are positioned at strategic points along the foundation and hydraulic pressure is then applied to the jacks. This causes them to lift the foundation and level it.
While each situation is unique, push pier brackets and a lateral hydraulic push system are often a cost-effective alternative to other methods of foundation repair, and preserve the aesthetics and charm of your home.
Our Push Pier Bracket and Lateral Hydraulic System Results Speak for Themselves
Anglin's Foundation & Masonry Repairs installed custom push pier brackets on the foundation wall, providing a stable base for the push pier installation. The push pier was driven into the ground, lifting the foundation back to its original position, and the hydraulic jacks were used to level the foundation. The homeowners were thrilled this process restored the stability of the foundation and allowed the brick veneer to be repaired, saving the integrity and appeal of their home.
If you're experiencing foundation settlement in your brick home, it's important to address the issue as soon as possible to prevent further damage to the structure. Contact Anglin's Foundation & Masonry Repairs today for foundation repair services that use state-of-the-art technology to restore your brick home to its original condition.
Posted on behalf of John Anglin, Anglin's Foundation & Masonry Repairs