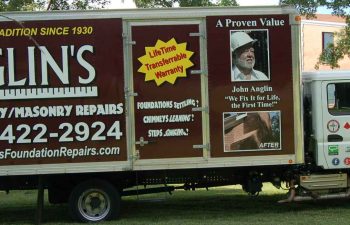 Your boss decided that your work from home (WFH) status will be permanent rather than temporary, as first expected. It turns out they couldn't afford the rent on the commercial property during the pandemic and had to let it go.
Now, you have some decisions to make as well. Since this WFH position will be permanent, working from the dining room table is not practical long-term, so you've decided to knock out that concrete wall and build your WFH office.
You and a friend were talking, and he said it is a load-bearing wall, and moving it will require a new beam, or it might cause damage. Plus, you're not sure you have the time, tools or talent to do this by yourself.
Ask Anglin's
The first thing you should determine is if it is indeed a load-bearing wall. If it isn't, you might be able to do it yourself (DIY). Of course, the professionals at Anglin's Foundation & Masonry Repair can make the determination, provide a free consultation and a no-obligation estimate. If you desire, we can do the project quickly and safely.
Building Permits & Electrical
We'll also determine what's necessary for permits and electrical and get those before we start work. Plus, we have all the scaffolding and safety tools and equipment such as safety goggles, respirators, air filters, earplugs and clothing that a DIY project would require you to rent or buy.
Knocking down a block wall will create much concrete dust, so we'll cover your belongings with drop cloths so that you won't have to move everything.
We'll bring in a dumpster to break up the concrete and tear out the rebar without leaving a mess. We'll move everything to the waste management facilities so that you need not rent a truck. Everything will look new and clean before we leave.
Getting What You Need Without Spending More Than Necessary
Anglin's Foundation & Masonry Repair does this work daily, so we have all the equipment, vehicles, tools and know-how. We'll get it done right the first time and give you a worry-free warranty. Why not call us today for a no-obligation estimate on your remodel?
Posted on behalf of John Anglin, Anglin's Foundation & Masonry Repairs