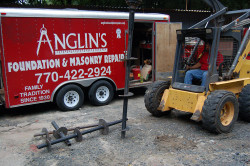 Over time, concrete patios, pool decks, stairs, walkways, foundations, and driveway slabs can settle and sink. To a homeowner, this looks and seems like a major problem. Thankfully, there are cost effective, long-term solutions available right in the Atlanta area. The team at Anglin's Foundation & Masonry Repairs will perform a comprehensive evaluation of your home's sinking concrete and determine the root of the problem.
Once a plan of action has been agreed upon with the home or business owner, a lightweight polyurethane foam is pumped into small holes in the concrete. Within a matter of minutes, the area is lifted and leveled because of the expansion and flow of polymers contained in the foam. The foam is ultra-lightweight, fills in voids, and will not burden the soil beneath. Holes are patched immediately.
Compared to replacing your concrete altogether, Anglin's Foundation & Masonry Repairs Prolift Concrete Raising and Leveling process is faster and far more affordable. There are many other benefits to raising concrete with foam lifting, including:
The space is immediately ready for walking, driving, and everyday use.
There is virtually no mess from grout or required wash down of the area.
The solution is permanent.
The material is lightweight and will never lose density.
The polymers in the foam are environmentally friendly and contains recycled and renewable materials.
Minimal patchwork is needed because the holes that are drilled for the foam are no bigger than a dime.
Do you need your concrete lifted and leveled? Don't let a sinking foundation get you down. Anglin's Foundation & Masonry Repairs can help. For more than 90 years, we've been Atlanta's trusted foundation experts. Our customers' needs are our number one priority. We have the resources, know-how, manpower, and experience to resolve any and every type of sinking or settling foundation issue. We are committed to excellence every step of the way. Don't replace it; repair it. Call us today to schedule a no-obligation consultation.
Posted on behalf of John Anglin, Anglin's Foundation & Masonry Repairs