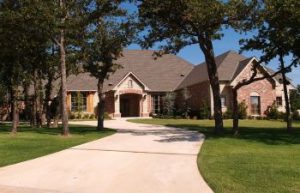 "To live in a peaceful home is to experience paradise on earth." –Shri Radhe Maa
There's nothing more peaceful than your home, if you make it that way. Making your home a peace-filled environment should be a top priority. Do you track the Bureau of Labor Statistics data on the use of time by Americans?  You can see how much time Americans are spending at home, and the average hours per day on household activities.
To make your home a peaceful environment you can make strides to:
Declutter
Decorate your home with the things you love the most, creating spaces for dreaming and recalling good memories.
Add fragrant life to your home with living plants or essential oils that can relax and enlighten.
Ensure that your home is physically stable and safe.
While our experts at Anglin's cannot help you with decluttering, decorating or scenting your home, we can help provide you with a peace of mind when you enter into your home. If your walkway or entryway into your home is sinking it can give you an unsettling feeling as you attempt to step into your peaceful home.
Anglin's has been repairing unsightly cracks, missing bricks, and sinking walkways and walls. Call Anglin's Foundation and Masonry Repairs today and schedule your free inspection. We will thoroughly inspect and assess your foundation and walkway and provide you with a free quote. We have been bringing peace of mind to Atlanta residents since 1930. Let us help you make your home a peaceful place as well.
Posted on behalf of John Anglin, Anglin's Foundation & Masonry Repairs
Circle Us on Google+