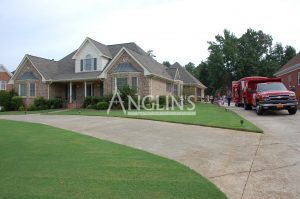 Your home is most likely your most important investment. Not only does your home provide you with physical safety and security, but it also can provide you with a safe and secure sense of financial well being as well. The relationship between homeowners and homes goes something like this, "You protect your home, and it will protect you."

An essential part of protecting the financial value of your home is by maintaining its structural integrity.  If the foundation of your home begins to settle, it's vital to get foundation repairs done quickly to prevent further damage to your home. When a foundation starts to settle, you'll notice small cracks at various places. It's essential to keep in mind that those small cracks, if not diagnosed and repaired, can cause a ripple effect of other issues around your home. All those "ripples" translate to more and more money that has to be spent.
Maintaining The Value Of Your Home
According to Zillow, Marietta's median home value is $286,300. Those values have gone up 5.1% over the past year, and Zillow predicts they will rise 2.1% within the next year. You can maintain the rising value of your home by keeping the structural stability and integrity of your home. Compromised foundations compromise the value of your home and your ability to get top dollar for your home if you're considering selling it.
Anglin's is a foundation repair and masonry repair company. We're a family tradition since 1930. We care about you and your home. Call us today to see how we can help you maintain the value of your home.
Posted on behalf of John Anglin, Anglin's Foundation & Masonry Repairs