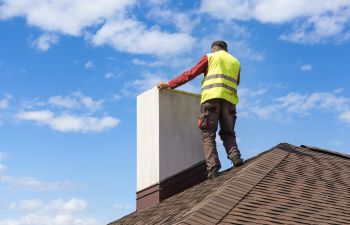 Chimneys provide the needed ventilation for your fireplace and need regular maintenance to ensure they function safely and correctly. The last thing you want is a damaged chimney that causes problems in the middle of winter. At minimum, you could be without use of your fireplace while you have your chimney repaired during the coldest months of the year. At worst, your home and family could be put at risk if your chimney causes an injury, fire or smoke in your home. Now is the time to perform chimney maintenance to protect your home and family.
Annual Fall Chimney Inspections
Fall is the ideal time to have an annual chimney inspection performed. If any damage has occurred since last winter, you have the opportunity to have it repaired before you need to use your fireplace. It is important to have a thorough inspection performed on the interior of the chimney – many serious problems are not identifiable from just inspecting the outside chimney structure. Anglin's Foundation Repairs offers thorough chimney inspections to ensure your chimney is safe and ready for the winter, and repairs if they are needed to restore the structure.
Chimney Repairs
If there are problems with your chimney structure, it is vital to have repairs made before trying to use your fireplace and chimney. Masonry chimneys require specialized technicians to ensure the structure is stabilized and safe for use. From the foundation up to the pinnacle of the chimney top, it is important that the structure is balanced and strengthened when a repair is completed. This can ensure the chimney will work correctly and does not pose a hazard. Damaged masonry chimneys can cause fires, smoke backups and falling debris risks if not repaired properly by a masonry expert.
Before you start your first fire this winter, make sure your chimney is inspected thoroughly and all repairs are completed. The cost of a chimney repair is a fraction of the price of losing your home or injury to someone in your family. For chimney inspections and repairs in the greater Atlanta, GA area, contact our team at Anglin's Foundation and Masonry Repair. Call today to schedule your chimney service.
Posted on behalf of John Anglin, Anglin's Foundation & Masonry Repairs