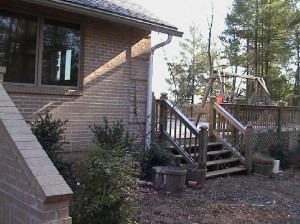 All houses settle over time, and not all signs of settling are cause for panic. However, understanding what is "normal" and what is not is essential in identifying structural problems that indicate huge issues with your home.
Settling happens for a variety of reasons, and in most cases, it is not something that needs to be stressed over. The weight of a home is a substantial amount of weight, and the ground beneath a home will sink down a bit over time as it is greatly compressed. Good home construction will build the component of settling into the construction of the home so that the home will properly withstand the normal settling that is going to occur. In fact, homes begin settling almost as soon as they are constructed. Gravity and exposure to the elements cause a home to settle – and neither can be avoided.
Warning signs that your house is not "just settling" include:
• Doors that begin to jam or that fail to latch
• Cracks in the sheetrock in walls over doorways, windows, or where walls meet the ceiling
• Cracks open in vinyl or ceramic tile over a concrete slab
• Windows that stick or that won't open or close completely
• A bulge or curve in a block foundation or pour concrete wall
• Gaps in the soil that meets with the outside of your home's foundation
• Basement posts that do not stand straight
• Puddles or signs of moisture in a crawl space or basement
• Stair-step cracks in any masonry work (brick wall outside, brick fireplace, etc.)
• Horizontal cracks in the foundation
At Anglin's Foundation & Masonry Repairs we have the expertise to determine whether any of your concerns regarding settling of your home are normal or if they are serious issues. Our family owned and operated business has served the Greater Atlanta area for over 90 years, and we have become the name to trust. Contact us today to schedule an appointment for one of our professional engineers to inspect your foundation and provide you with a thorough evaluation.
Posted on behalf of John Anglin, Anglin's Foundation & Masonry Repairs