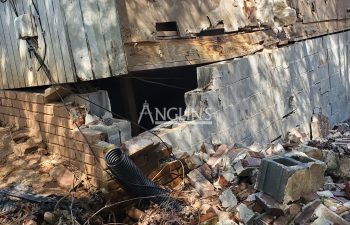 When most people think of the foundation problems that can affect their home, they are usually considering the spring and fall. The heavy rains these seasons bring can cause significant and obvious damage, but the same can happen in winter. With the ground frozen, it can be harder to detect foundation problems because there may be no puddles on the floor or leaking walls. However, there are a few telltale signs you can watch out for that can indicate foundation problems.
High Humidity and Temperature Problems
A leaky foundation will create humidity throughout your home. The house will feel sticky, and you may find towels or shower curtains take a long time to dry. Carpets may also feel damp or unusually cold under your feet. If your heating system is working overtime, but your house doesn't seem to warm up, it can also be a sign that there is a crack or leak letting warm air out of your home.
Mold, Mildew or Damp Drywall
You might think a cold winter would prevent mold from growing, but the heat inside your house can cause mold to grow on the inside surface of damp drywall. High humidity levels can also cause excess mildew growth in damp areas of your home, like bathrooms.
Uneven Floors or Tilting Chimneys
If your floors begin to squeak, buckle or slope, it can be a sign that your foundation is sinking. As it sinks, it can no longer support the weight of your home properly. Outside, you may notice cracking in your chimney. If the shifting is very severe, the chimney may begin to lean away from the house. This is a sure sign of a serious problem.
The Cold Won't Stop Us
Foundation repairs need to happen as soon as possible to prevent further damage to your home. If you are experiencing the signs of winter foundation damage, do not put off calling in the experts. We can find the problem and correct it before it gets worse. For all your foundation repair needs, contact Anglin's Foundation and Masonry Repair today.
Posted on behalf of John Anglin, Anglin's Foundation & Masonry Repairs