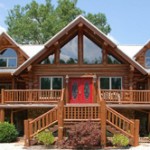 If you have a back deck, you probably appreciate it most during the summer months when you have time for cookouts, family gatherings, and relaxing weekends. However, before you have people over or your family spends a great deal of time out on your back deck, it is important that your deck is in proper condition.
Your deck supports a great deal of weight on its own, but adding furniture and extra people adds an additional amount of weight that your deck must be able to support. An unlevel deck is always considered to be an unstable deck. When the columns one one side or in a corner sink into the ground lower than the other columns, your deck's integrity and safety has been compromised. At Anglin's Foundation & Masonry Repairs, we provide expert service to repair your deck and keep it safe this summer.
When a house settles, it is important to understand that all aspects of the house will settle – this includes the deck(s) of your home. When a deck column's footing or deck post's foundation settles, the supports can lean and make the deck unstable. The deck can even be completely pulled down by excess weight on one side of the deck, causing a hazardous situation for anyone near. Anglin's Foundation & Masonry Repairs is the professional company in Atlanta that has over 90 years of experience serving satisfied clients.
If your deck feels like it tilts or a ball rolls on your deck without being pushed, your deck's safety needs to be evaluated. Even a small amount of settling can lead to costly damage – both monetarily and for persons involved. Contact Anglin's Foundation & Masonry Repairs today to keep your deck safe this summer.
Posted on behalf of John Anglin, Anglin's Foundation & Masonry Repairs