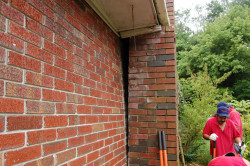 With winter finally here, cold temperatures are becoming a regular part of our days here in Georgia. Many people enjoy having a fire in the fireplace during the dark and cold winter evenings and nights as a way to keep warm and to cozy up for family time. However, a fireplace that is not safe can be a danger to your family and your home. It is important to take the time to inspect your fireplace on a regular basis, but especially when it is time for it to be used often.
The best tools you have to keep your fireplace safe are your eyes. Visual inspections of the inside and outside of your fireplace can help to ensure that your fireplace is in good shape. The following are things to check for:
Make sure the chimney cap is present and in good shape
No birds have made a nest or put debris in or on the cap
The mortar and brick are not crumbling
No tree limbs are above or near the chimney
Make sure the chimney rises at least two feet above the roof
The chimney is not leaning or tilting
The roof flashing is tight against the chimney
Gas logs, if used, need to be in good working condition and in the proper position
The hearth and firebox must have no cracks – this is a serious issue
With the fireplace off/un-lit, you should be able to look up the chimney and see daylight at the top
Check for signs of moisture inside the firebox
If you find that there are any issues with any of these, it is important that you have a professional fireplace and chimney inspection done. Anglin's Foundation & Masonry Repairs is the name that Atlanta trusts for exceptional repairs to sinking foundations, steps, porches, leaning chimneys, cracked basement walls, and more. We have the solution to your problems, and we are here to help keep your fireplace safe. With over 90 years of experience, our focus has been and remains to be on providing the best services with permanent solutions at the very best value. Call today.
Posted on behalf of John Anglin, Anglin's Foundation & Masonry Repairs