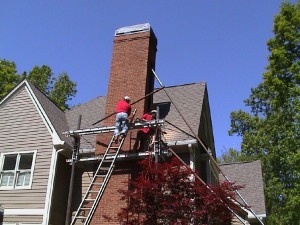 Homeowners are rightfully concerned when they realize that their chimney is leaning and separating away from the home. This indicates a serious foundational or structural hazard that needs to be addressed right away. There can be a number of reasons for a chimney to lean. Common causes are shifting soil, poor foundation construction, and inadequate water drainage. If the ground beneath your chimney is inadequate and causes the chimney to lean, it is likely that the entire home may be bearing more weight on the soil than it can properly hold. Warning signs that you should not ignore include cracks in the chimney, spaces or gaps between the home and the chimney, and obvious visible leaning either toward or away from the house. When a foundation needs to be repaired, a leaning chimney is a red flag.
Anglin's Foundation and Masonry Repair offers repair services to permanently straighten and stabilize a leaning chimney. With more than 90 years of experience, we have solved the underlying problem and repaired thousands of leaning chimneys. Each case is different and requires an expert who will consider what will be needed for total chimney restoration. We will conduct a comprehensive investigation to determine the cause of the tilting and the extent of the damage. Repairs will likely involve concrete foundations or support footings. Following the chimney repair, we will bring in new tie-backs and secure bricks and stone that have loosened from the frame of the chimney.
We have built our business and reputation on foundation and masonry repairs and have vast experience solving the most complicated issues related to a leaning, creaky, or cracking chimney. We provide our customers with detailed inspections and free repair estimates so you can make an informed decision about how to resolve a leaning chimney and its accompanying problems. Our service area extends throughout metro Atlanta. For the best permanent solution from the best team at the best price, call on Anglin's Foundation and Masonry Repair.
Posted on behalf of John Anglin, Anglin's Foundation & Masonry Repairs