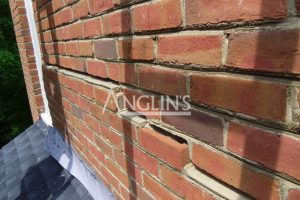 When discovering a problem, the first step is typically to notice a change. This discovery happens with our bodies, our children, and our homes. For this reason, it's essential to familiarize yourself with what's normal so you can spot something abnormal when it arises. If you discover a change at your home, it's necessary to get it investigated to avoid further damage. Finding and fixing a problem when it's small can help you avoid expensive and extensive repairs in the future.

Changes To Look For With Your Masonry
Cracking – Cracks in your masonry and steps can indicate a deeper issue. Vertical cracks can occur when drying and shrinking happen around your home or commercial property.
Leaning – If your chimney is leaning or tilting, this can be a dangerous situation. These types of issues require repair and a solid footing to function correctly and remain safe.
Bulging – Bulging bricks or masonry can be caused by oversaturation of the ground. If your shelf angle is corroding, you may have excessive rain flowing down the side of your home due to an insufficient gutter or downspout placement.
Anglin's Foundation & Masonry Repairs
If you notice some of these common changes in your brick or masonry around your home or commercial property, call Anglin's Foundation & Masonry Repairs today. One of our experienced professionals will come out and take a look at it right away. It may be a cosmetic problem, but it also could be a sign of a potentially much larger foundation issue. After a diagnosis of your problem, we will offer you the best plan for the repair and restoration of your property.
Posted on behalf of John Anglin, Anglin's Foundation & Masonry Repairs
Posted on behalf of John Anglin, Anglin's Foundation & Masonry Repairs