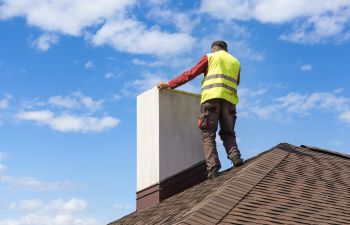 With the warm Georgia summer finally here, you won't be expecting to make use of your fireplace or wood burning stove for some time. Accordingly, this is the perfect time of year to arrange your annual chimney inspection. If any potential problems are discovered, you have ample time to arrange appropriate repairs. When the cold weather returns, you will know your flue is in peak condition.
Statistically, summer is the time of year that Georgia residents are more likely to move into a new property. There are many stresses involved with moving, but it is important not to forget to have the chimney of your new home inspected as soon as possible.
What Is Involved with a Chimney Inspection?
The kind of inspection you will need depends on a number of factors. The minimal level of assessment involves checking that the chimney and flue are sound in structure and free of blockages. If you have your chimney inspected annually and don't make any changes (such as switching from wood burning to gas), this could be all you need to confirm everything is in working order.
Changing the fuel source or the structure of your flue might necessitate a more in-depth inspection. If you have experienced an event that might have damaged your chimney, such as a fire or extreme weather conditions, ensure that you advise your inspector. He will examine all the internal surfaces of your chimney system and the external portions concealed in attics and crawl spaces.
If any inspection suggests that a hazard may have developed, it may become necessary to remove parts of the chimney structure. This allows a proper examination of concealed areas, such as behind the chimney crown or interior wall.
A real estate inspection will have been conducted as part of purchasing your new property. However, when it comes to your chimney and flue, this is likely to have been a cursory once-over at best, and conducted by someone with little knowledge of potential hazards. Avoid being surprised by costly repairs or damage to your property and possessions by arranging a professional evaluation prior to closing the sale.
Choose Anglin's Foundation & Masonry Repairs for Peace of Mind
With over 90 years of experience in chimney inspection and repair in Georgia, Anglin's Foundation & Masonry Repairs should be your first point of contact. We have a long reputation for trustworthy and thorough service. Help us secure your investment and protect your home by calling today.
Posted on behalf of John Anglin, Anglin's Foundation & Masonry Repairs