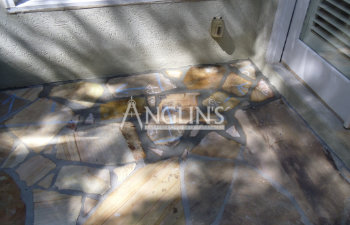 If you have a concrete patio, it may be where you spend the majority of your family time from May through September. Outdoor living spaces are wonderful for relaxing and entertaining, but you need to make sure they are maintained. If your concrete patio has begun to sink, it may be unlevel and a hazard if there are unlevel slabs. Before the outdoor season begins, it is time to have your patio leveled to ensure a safe summer.
Quick Concrete Leveling with Polyurethane Foam
You do not need to tear out a sinking concrete patio to restore a level place for your outdoor living space. One of the quickest ways to raise concrete slabs is with polyurethane foam. Anglin's Foundation & Masonry Repairs uses this method to fix unlevel concrete inside and outside of homes, including for sunken patios. We use our professional equipment to drill holes to access the area under the concrete. Polyurethane foam is pumped under the concrete, lifting it up to the desired level within minutes.
There are many benefits of using polyurethane foam for lifting concrete over replacement or other mudjacking methods. Some of these benefits include:
Small drilling holes.

 

The holes we use are just over a half-inch in diameter, which is much smaller than many other access holes for leveling. This means less damage to the concrete and smaller patches.
Lightweight, eco-friendly foam. The polyurethane foam we use only weighs about two pounds per cubic foot and it is made from recyclable and renewable materials.
Ready to use immediately.

 

You do not need to wait for the foam to cure. Your patio will be ready to use immediately after we are finished.
Cost and time-effective. This type of concrete leveling costs about half the price of concrete replacement and is often less expensive than mudjacking, as well as quicker than other methods.
If your concrete patio needs leveling, now is the time to get it ready for summer. Anglin's Foundation & Masonry Repairs is your source for reliable concrete leveling for patios, sidewalks, garage floors, driveways and much more. Give us a call to schedule a patio leveling estimate.
Posted on behalf of John Anglin, Anglin's Foundation & Masonry Repairs