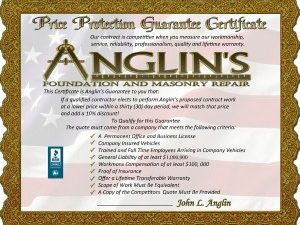 When you discover that your home has foundational issues it can instantly cause you to feel uneasy. First, you may wonder if your home is even safe for your family to live in with the issues that may be compromising the structural integrity of it. Second, you may wonder how much the repairs will end up costing, and whether or not you will be able to afford it.
Anglin's Foundation & Masonry Repairs knows that our customers may feel a lot of uncertainty when it comes to problems with their home. That's why we've established a price protection guarantee for you. Our guarantee states that:
"If a qualified contractor elects to perform Anglin's proposed contract work at a lower price within a thirty (30) day period, we will match that price and add a 10% discount!"
When we offer the price protection guarantee to you, our hope is that it gives you a peace of mind knowing that you are getting the best price possible for your foundational work. To qualify for this guarantee there are a few guidelines that we follow with the regard to the company that gave you the quote:
A permanent Office and Business License
Company Insured Vehicles
Trained and Full Time Employees Arriving in Company Vehicles
General Liability of at least $1,000.000
Workman's Compensation of at least $100,000
Proof of Insurance
Offer a Lifetime Transferable Warranty
Scope of Work Must Be Equivalent
A Copy of the Competitors Quote
Call Anglin's Foundation & Masonry Repairs today. We are Atlanta's foundation repair company with integrity and a name you can trust, you have John Anglin's Personal Guarantee.
Posted on behalf of John Anglin, Anglin's Foundation & Masonry Repairs