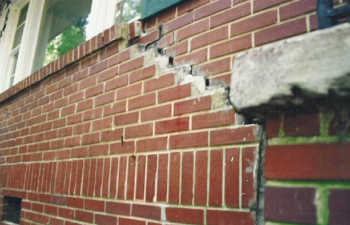 When it comes to repairing the structure of your home, don't be tempted by cutting corners. Quick fixes hide the symptoms, but don't solve the real problem – the structural foundation of your home.
The Importance of Correctly Fixing Structural Problems
Cracked or falling walls can be a sign of dangerous foundation problems that will worsen over time and could lead to many other problems. Not only does it look bad, but if it's not fixed quickly and correctly, it could threaten the foundation of your home or business. Don't put off fixing structural issues, it will cost you a lot more to fix the problem later on.
Tilting and falling masonry chimneys require a solid footing. A small crack at the base of the footing can result in the upper part of the chimney being up to a foot away from your home, and you may not notice it. If a masonry chimney is not properly repaired, it could fall and injure or even kill people and pets. It could also damage other items in and around your home, and you can lose your entire chimney.
Structural problems can lead to windows becoming stuck. The foundations of the building can shift due to erosion or other potentially serious structural problems. Windows can lack the necessary support to hold their weight, especially if they are heavier bay windows. It may be inconvenient not being able to open your window, but it is only a symptom of the underlying structural problem.
We fix it for Life the First Time!
Whether your walls are cracking, your windows are dipping or your chimney is tilting, you need an experienced professional to fix the problem. Anglin's Foundation and Masonry Repairs has proven to homeowners and businesses the importance of correctly fixing structural problems.
Unlike our competitors, we don't just make the problem look nicer, we determine the cause and offer a practical and permanent solution that will last. That's why we stand behind our work with a lifetime warranty and our personal guarantee.
If you require structural or masonry repairs for your home or business, don't hesitate to contact Anglin's Foundation & Masonry Repairs with our online form, or call us at (770) 422-2924 to request a free quote.
Posted on behalf of John Anglin, Anglin's Foundation & Masonry Repairs