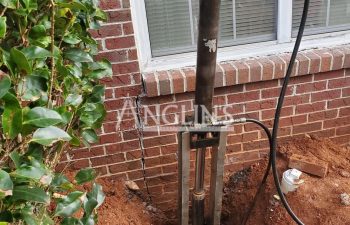 When a foundation is laid improperly, big problems can arise. Number one on the list is when everything begins to slide or settle far beyond any intention. Some contractors don't build a foundation deep enough and stable enough to withstand soil conditions like clay and muck. In addition, long-ago buried debris and sinkholes can also take out the foundation, leaving a house uninhabitable. That's why you always need a contractor who knows foundations inside out.
What is Pier Jacking?
Pier jacking is used to shore up a sinking foundation before the building collapses. However, pier jacks are often used to repair a foundation rather than installing them while building to give more support for the building, even when erosion takes place. As a result, many homeowners wind up frantically searching for a way to repair their foundations without having to rebuild them. If you plan on building, ensure pre-construction piers are part of the blueprints.
Pre-Construction Piers

Helical Piers

Resistance or Push Piers

Slab Piers
Quality Pier Jacking in the Atlanta Area
Whatever type of pier installation or foundation work you need in the Atlanta area, the contractor you need is Anglin's Foundation & Masonry Repairs. We've been building and repairing foundations in Atlanta for over 90 years. We've got our proprietary method of attaching pier brackets that won't harm your structure with drilling holes. Call Anglin's Foundation & Masonry Repairs for all your concrete needs. We fix it for life the first time!
Posted on behalf of John Anglin, Anglin's Foundation & Masonry Repairs