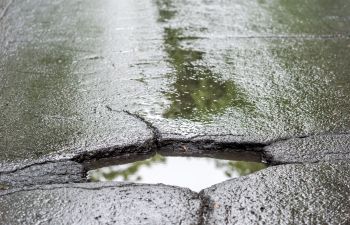 In the previous blog, we discussed the importance of making home improvements such as concrete leveling a priority this year. Your home is likely your largest investment, so putting time and money into your home should never return void.
Lifting concrete sounds almost impossible, doesn't it? When you think of raising the concrete slab of a home, your mind may bring up images of huge cranes or even comic superheroes performing incredible feats of strength. Well, luckily for the modern-day, there is an impressive technique that makes the impossible possible.
Polyurethane foam injections are the best solution for sinking floors. Anglin's Foundation & Masonry Repairs proudly serves clients in and around Atlanta with a commitment to excellence using state of the art equipment and methods. The evolved application of Pro-lift Polyurethane allows Anglin's to provide an even higher standard of service to clients in concrete raising and lifting.
How it works:
Polyurethane foam is specially engineered to expand and lift. It is applied underneath the concrete to lift sunken areas so that they are level and raised to their original position. The process is fast and follows these four steps:
Penny-sized holes are drilled into the concrete floor
Injection ports are inserted into the holes
The cavities are filled with the expansive polyurethane foam
The holes are patched and smoothed out to give the floor an even finish
With the ability to cure in minutes, Pro-lift Polyurethane allows for swift lifting and stabilization. It has compressive strength, so the foam is designed to lift without splitting. It also has exceptional adhesion, so the foam will not shift underneath the concrete. Applications for polyurethane foam injections include sidewalks, driveways, basement floors, slabs, patios, steps, garages, and more.
When it comes to concrete lifting, leveling, and stabilizing, Anglin's is the name to trust. Providing trusted and respected service since 1930, Anglin's Foundation & Masonry Repair is a Top Atlanta Contractor and your industry experts. Contact us today.
Posted on behalf of John Anglin, Anglin's Foundation & Masonry Repairs