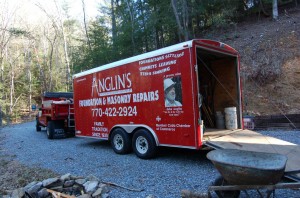 The definition of erosion is the displacement of soil and rocks as a result of water, wind, or geological shifts. This is a natural occurrence, and erosion is largely responsible for the unique contours of planet Earth. However, not all erosion is "good erosion," because it can be produced by unnatural causes. Homeowners need to be aware of the dangers of erosion around their homes so that they can prevent damage to their property.
Foundational damage is a common and expensive result of soil erosion on personal property. Home foundations are built out of several materials – stone, block, reinforced concrete, and treated wood being the most widely used. Because a home is built on top of soil, a good foundation requires a lot more than just digging a hole and placing a home in it. A good foundation should be built to last, and it must be tailored to its specific site by taking into account soil conditions, water tables, and the quality of the backfill. By neglecting one of these, foundation failure will occur and result in costly soil erosion.

Retaining wall barriers, or anchored solider pile walls, help to block soil from shifting down steep slopes. When a steep slope is present on a property, the soil is vulnerable to quick erosion from rain and wind. Retaining walls help redirect water so that its drainage is controlled and the flow of water is predetermined. Retaining walls also set a barrier against wind to prevent it from constantly affecting a certain area of your property. Retaining walls are no DIY project. It is vital that you hire a licensed, professional contractor who has the experience and expertise in erosion prevention using retaining walls.
Another preventive solution, that can sometimes be a DIY project, is to create a stepped terrace down a slope in your property. This can be a landscape appeal that uses stone steps or timber to transform a slope into a stylish and effective solution. A stepped terrace breaks up water run-off rather than letting it freely run down the slope. For steep slopes, it is recommended to contract a professional in order to design a stepped terrace to specifically address erosion prevention.
Soil erosion has the potential to threaten your entire home, not just your yard. At the first sign of soil erosion, contact Anglin's Foundation & Masonry Repairs for a free inspection and estimate on addressing your situation. With over 90 years of experience, we are the name to trust for your foundation needs.
Posted on behalf of John Anglin, Anglin's Foundation & Masonry Repairs